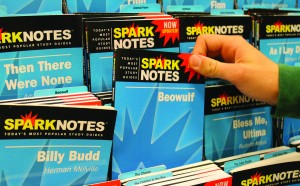 Students and teachers discuss whether or not using SparkNotes is cheating
By Madison Roberts
Staff Writer
SparkNotes is one of the most teen-visited websites in America. The website gives detailed summaries of thousands of short stories and books as well as analyses of characters, themes and an explanation of major quotes in pieces of literature.
In a recent survey conducted by The Omniscient, 70 percent of students admitted to using SparkNotes as a substitute for reading the material assigned in their English classes and only 17 percent considered it cheating.
Junior Jordan Riggsbee said he uses them frequently.
"Pretty much every chapter of every book I've ever read," he said. "It's a lot better to actually read the book and then do the SparkNotes, but there's not enough time in the day for that."
English teacher Kari Haddy sees many reasons her students use SparkNotes.
"I do think a lot of students read them because they get these books and are frustrated by them….  And they know online there is this thing that is just going to explain it to them," Haddy said.
Senior Julia Sloane has used SparkNotes to supplement her knowledge and to review the material, but says she has never used it in place of reading the book. She has a different point of view on her peers' choice to only read a summary.
"I think it's dumb," Sloane stated. "It's not going to help you."
Haddy agreed.
"It's like you go out to see your favorite movie and you enjoy it. You sit there for two hours and your friend reads the summary on rottentomatoes.com. How do those even compare with each other?" Haddy said. "I see it as the exact same thing. [By] reading a summary, you know what [a book] is about, and you can act like you read it, but it really means nothing."
Many teachers make attempts to give assignments that are "SparkNotes-proof." Haddy mentioned how she tries to put quotes on her tests and quizzes as well as questions about topics that were discussed in class.
"Our constant battle [as teachers] is to make assignments where reading the book is necessary," Haddy said.
Although a majority of Northwood students have read SparkNotes to substitute for their assigned reading, English teachers still believe it is important to require high school students to read the actual book.
"There's no way that you can get the full scope and range of understanding and relate it to appreciating a piece of literature straight from SparkNotes," English Department Chair Pat Thornhill said.
But Thornhill believes that using this tool in the right way can be very effective.
"The purpose of SparkNotes is to help you as young people see things in the literature that you otherwise wouldn't have seen," Thornhill said. "Obviously it's more challenging to try to make kids read the literature…but honestly, I'm a fan. I want to help kids understand that there's a right way and a wrong way to use those sorts of resources."
As the data in the survey represented, many Northwood students do not see substituting a detailed summary for reading the actual piece of literature as cheating. In the "About" page of SparkNotes.com, it clearly states that the information they provide is not meant to replace reading.
"We're here to help you learn, not to help you cheat. Our literature guides are meant to be read along with the books they analyze," the site stated.
Freshman Lucas Cooper does not believe that using SparkNotes in replacement of reading is considered cheating.
"Cheating would be giving [you] the answers. SparkNotes is just helping you read the story…. It's like a teacher at home," Cooper said.