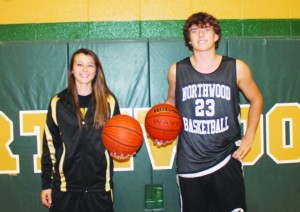 GIRLS' BASKETBALL
Last season, the girls' basketball team advanced further in the playoffs than any other girls' basketball team in Northwood's history. This year's team is hoping to go even farther.
The Lady Chargers are fully loaded with players ranging from freshmen to seniors, though they lost two starters from last year's squad. Olivia Oakley, a 6-foot-1 center, was a tall presence, and guard Annie Cleaver was a quick and agile player who is now playing collegiate soccer.
Though the loss of Oakley and Cleaver created a temporary gap in the line up, many key players return to the team.  Seniors Brianna Greene, Yancey Luft, Kerri Snipes and Shelby Wolfe have all played travel basketball and all played a significant amount of time last year.
The addition of Jasmine Harris, a 5-foot-11 forward, and Shontai Totten, a 5-foot-4 guard, will help to further strengthen the team.
"[Totten] and [junior] Gaby Mehringer are really going to need to step up this season," said head coach Cameron Vernon.
Wolfe stated that the most difficult games will be against River Mill Academy and rival Jordan Matthews, the Dec. 2 season opening game in which the girls lost to the Jets 56-42.
NHS has rallied from that loss, and as of Dec. 15, were 3-1.
"Our goal is to compete on a nightly basis, hopefully win a conference regular season championship, win a conference tournament championship, get in the state playoffs and then who knows what can happen," Vernon said.
Wolfe shared similar goals to Vernon's.
"[I want] to win the conference championship and get farther than we did last year in playoffs," Wolfe said.
Although the team is striving to reach this goal, it has one weakness that will be difficult to overcome.
"This year we are really short," said Greene.
Vernon agreed.
"We are going to have to block out well and just get rebounds," said Vernon.
Despite the obstacle, Vernon, Greene and Wolfe stated that the team is full of experience and speed.
"I am really happy and pleased with the way that the preseason is going," said Vernon.  "Everyone seems to be getting along well and everyone is playing hard."
Greene feels the same way.
"We want to get further than last year, and we really want to have a better bond as a team," said Greene.
BOYS' BASKETBALL
"Our basketball program has gotten to the point now where when we play someone, they circle their schedule when Northwood is coming to play," said boys' basketball coach Russ Frazier. "And that's their biggest game."
In 2009 and 2011 the boys' team made it to the state championship game. Both games ended with heartbreak, but this year's team has a positive outlook on the season.
Still, this year's team features a radically different lineup from last year's runner-up. Juan Young, Antonio Farmer, Trá Chandler and Chris Forbes all played varsity basketball for three years, with Young and Farmer as constant starters.
"They really set the bar high for the athletic program here at Northwood; those four laid a foundation," said Frazier.
Despite the loss of the core group, senior John Wieland is back as last year's conference Player of the Year. Senior Mark Goods will play an expanded role while senior Jamal Baines returns after not playing last year. Frazier said he is also excited to have Aumad Walker back, who he says continues to work hard.
Cedar Ridge transfer Cam Pappas, a senior, is also expected to help benefit the program.  Before transferring to Northwood, Pappas was an all-conference player in basketball, football and baseball.
In addition to the returning players, two new freshmen have joined the team. Ti Pinnix and Kadarus Rone, both young, talented players are expected to have a significant impact on the program.
"It's going to be kind of hard to replace the players from last year because the players they had last year were very athletic," said Pinnix. "We are going to [need] to have hard work, dedication and heart."
Frazier said that a challenge for the team this season will be the lack of experience.
"When you lose the amount of seniors we did last year, players have to step up and make plays. It will take a lot of work and attention to detail, but we will get there," said Frazier.
After losing its first two games, the team improved to 2-2 (as of Dec. 15). In its season opening game against rival Jordan Matthews Dec. 2, the boys' team lost to the Jets by two, with a final score of 60-58.
With a combination of good leadership, new additions and a positive mindset, the boys' basketball team is looking for a successful season.
"We want to get better everyday, and become closer as a team," said Wieland.
Frazier agreed.
"I'm a firm believer that there are no days off," said Frazier. "If we continue to do so, we will do some great things."