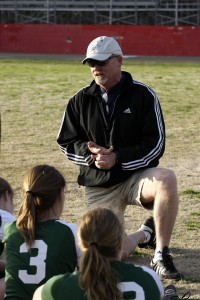 By Kaitlyn Mattiace
Staff Writer
Over the years at Northwood, many coaches, teachers and principals have made a lasting impression on students throughout the school. Two coaches who have done so are Jack Middleton, who coached soccer for 32 years, and Ronald Horton, who coached baseball, basketball, football and cross-country during his 40 years at Northwood.
Both Middleton and Horton recently announced that they would be retiring, leaving behind both the athletes that have looked up to them for years and many endless memories of their coaching careers.
Horton always knew that he wanted to be a coach and teacher when he went to college. He made his mark at Northwood as head coach of baseball for 34 years, head coach of cross-country for 17 years, and head coach of basketball and football for four years each.
"[Since I was a young boy] I wanted to play professional baseball. When you realize you can't, then you turn to coaching," said Horton.
Middleton began his soccer coaching career in 1979, coaching for 18 years in Raleigh, Cary and Apex. However, most Northwood students know Middleton from the time he spent coaching at North Chatham for nine years, Northwood for the last four years and Pollard Middle School for the past year.
"Having played football in high school and college, I was determined to coach that sport, but when I found a job at Hale there was no football. The Headmaster told me I was the soccer coach and the rest is history," said Middleton.
Middleton grew to love the sport through working with other coaches and players, as well as taking many clinics and workshops. His passion for the sport was matched by his well-known coaching skills.
"I was selected to coach the East squad in the East/West All-Star game in 1999 by the NCHSAA. That was quite an honor," said Middleton.
Horton and Middleton made a difference in their athletes' lives as well as in their athletic departments.
"[Middleton is] like a father figure. He's always there to give advice and he's really nice," said April Gibbs, a senior who has been coached by Middleton since the fourth grade. "When he was a coach we were all a family because he would always bring us together and made us play like a team and act like a team."
Just about every afternoon—especially on the day of a meet—Horton could be found riding around the trail on the Gator, spray-painting roots or divots, picking up branches and putting down gravel for at least three miles.
"[Coach Horton] basically built the baseball and cross-country programs into what they are today. And when I say built, I mean it literally and figuratively. He personally carved out the cross-country trail in the woods surrounding the school and turned it into what is widely considered one of the best courses in the state," said Dylan Mathews, a former athlete of Horton's and graduate of the class of 2009.
Mathews isn't the only one who saw how much time and dedication Horton put into his work.
"My wife, Leigh, always said I worked more on the baseball field and trail at Northwood than I did our yard," said Horton.
Both Middleton and Horton look back on their many years of coaching with no regrets.
"Seeing the expression on the faces of runners when they finish the cross-country race, those things make coaching worth every minute, hour and year you put into the sport," said Horton.
Regardless of how many years they spent coaching, there will definitely be some things they miss.
"In reality, I will miss it all, but it is time to step back and be a spectator," said Middleton, who said he looks forward to sitting in a chair and watching the soccer games for fun, without having to worry about who wins or loses.
While Horton and Middleton will be missed by their athletes, the teams have a positive outlook for the future.
"I think it will be different, but hopefully it will continue to be just as successful as it was with [Horton]. We can continue to do great things," said Maria Vanderford, a junior who has run on the cross-country team for the past three years.
Rebecca Moore, a senior who has been coached by Middleton since the sixth grade and has known his family for even longer, has a similar attitude about the team's future success without Middleton.
"I think we will miss the crap out of him, but hopefully the team will take everything he has taught us and further our skills into winning a state championship," said Moore.