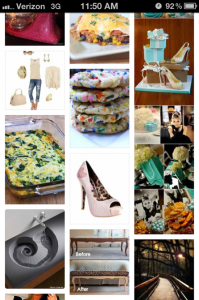 "Pinsomnia (pin-som-nia) noun; the inability to get enough sleep because you keep clicking 'see more pins' just one more time."
Senior Maggie Denny re-pinned this quote onto her "Just for Laughs" board on Pinterest, an online bulletin board that became popular with Northwood students earlier this year.
"You're on [Pinterest], then you will almost go off, and then [you'll] see something else you like and re-pin it and stay on all night long," sophomore Dana Walker said.
Pinterest is a social networking website, like Facebook or Twitter. The user is still able to like, comment on and post things, the difference is that Pinterest is a way for people to share and organize all of the inspiration and aspirations one may have, rather than their own lives.
Pinterest's mission statement is to "connect everyone in the world through the things they find interesting." Pinterest has been in use making its mission reality since Dec. 2009.
"You go on and you look at pictures and the pictures that you like, you re-pin. [When you re-pin] it shows up on your pin-board and then people can re-pin it from there," senior Silva Stout said.
Many students at Northwood use Pinterest for things such as planning dream weddings or vacations, decorating their future homes, hair tutorials, shopping for clothing or sharing favorite recipes.
"There are so many different creative things and groups to follow, like food, fashion, photography and crafts. There's basically everything," Walker said.
Other Northwood students say they go on Pinterest to relieve boredom and to keep them entertained.
"When I'm bored, I go on Pinterest. When I want to look at pretty clothes, I go on Pinterest. When I want to find recipes, I go on Pinterest. When I want to look at funny pictures with captions, I go on Pinterest. I love Pinterest," Stout said.
Many female Northwood Pinterest users are drawn to the vanity sections such as nails, hair and makeup.
"I mostly look up hair and how to do your hair in different styles," freshman Holly Reil said.
Boys who go on Pinterest are mostly drawn to comedy segments.
"I usually go in the humor section. I just like the funny pictures with captions," junior Brandon Edwards said.
Other popular sections are the do-it-yourself crafts, clothes and recipes.
"It's a place where I can look at really yummy foods, fashion designs and crafts I can do for my room," sophomore Savannah Castor said.
Following people on Pinterest that one doesn't know personally is not considered a bad thing. The Pinterest community will follow people from categories that interest them based on the pictures pinned by those people.
Students at Northwood feel Pinterest should not be considered a social networking site like Facebook or Twitter, because of the lack of communication that goes on from person to person.
"It focuses more on what people like, rather than the people themselves, so
the drama stays out," senior Mikkie Gallagher explained.
"There is no drama, you can only really leave positive feedback. You can't bash other people and you can't do anything wrong," junior Alyssa Gordon said.
When double clicking on any pin, such as clothes or food, the site will link to the store or blog page that the items originated from. This is how many users of Pinterest at Northwood get various ideas for a rainy day.
Although Northwood students feel that Pinterest isn't like other social networking websites, finding Pinterest on those sites wouldn't be unusual. With Pinterest's iPhone application rated at 4.5 stars, and the option to pin pictures to Facebook or Twitter homepages, the site's popularity is spreading.
–By Ally DeJong