"I just want to dance," said senior Julia Sloane, who plans on attending Cornish College of the Arts in Seattle next year. Sloane chose to leave North Carolina becaus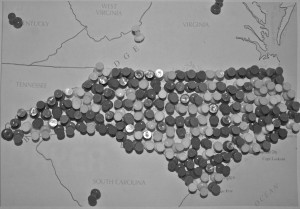 e she believes that a big city will allow her to find a position as a dancer.
The draw of larger cities affects many students with such aspirations, but the number of seniors that leave Chatham County for college each year does not show this.
Last year, only two percent from Northwood's graduating class decided to attend college out of state. This percentage is compared with eight percent of seniors from Jordan Matthews, seven percent from Woods Charter, and the one student that left from Chatham Central. All in all, not many seniors in Chatham County choose to leave the state, especially those from Northwood.
That number may increase this year, as more Northwood students have committed, or are thinking about committing, to a college out of state.
"I think I'll get a whole new perspective," said Sloane.
Gino LaManna applied to three out-of-state colleges and three colleges located in North Carolina.
"I have been in North Carolina for 15 years. I kind of want to get out," said LaManna. "I think it will be healthy for me to start a new path."
College tuition is always a large factor that goes into choosing a college. In-state and out-of-state costs tend to vary for different schools. For UNC-Chapel Hill, the tuition for a North Carolina resident is $7,008 while the tuition for an out-of-state resident is $26,834. The out-of-state resident cost difference for NC State University was $12,834 higher than it was for in-state students.
"I think seniors should go and grow and get away from home, but a lot of folks can't afford that now because of the economy and the price," said Sonia Logan, a guidance counselor at Northwood.
For other students, the cost was not a factor in their decisions. The difference in private school cost is small, if there is any at all; for Elon University, the price difference for students coming from out of state is within $2,000.
"All of the schools I applied to were private, so [cost] didn't really matter," said Sloane.
Logan noticed that many of the seniors from Northwood attend schools in the UNC system. There are 16 different UNC-affiliated schools in North Carolina. A majority of the seniors each year stay in this system, going to schools like NC State, UNC-G or East Carolina.
So why do so many students choose to stay in state?
The reason for this may be that seniors in North Carolina grow up hearing about these schools. Being close to home can be a definite factor for students choosing where to go to college, but it is noted that the schools in North Carolina also happen to have a great reputation around the nation.
"I'd probably stay in state," said Skip Thibault, a teacher and graduation coordinator at Northwood. "The university system of North Carolina is one of the best in the United States."
However, there are many college options around the globe. Logan believes that it would be good for students to explore out-of-state options.
"There are some good out-of-state colleges and universities because some of them offer things that we cannot offer in the state of North Carolina," said Logan. "It depends on what you like."
Student teacher Will Isley, who went to high school in Virginia but attends UNC-Chapel Hill, agrees that the college one attends should depend on their goals.
"We're in a more competitive environment than ever so you should probably choose the school that has the best reputation that you can get into," Isley said. "Whether or not that's in state or out of state I think is not as important."
Logan believes that students should always go visit the schools they may be interested in to make sure it is what they want.
"It is your college experience and it is one that you will never get over again and you're never going to take it back, so you want to make the best of it. There are a lot of opportunities…don't take any of them for granted," said Logan.
— By Michaela Johnson