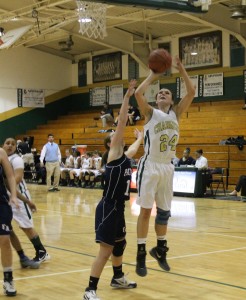 Girls' basketball wins conference, falls in 4th round of state playoffs
The girls' basketball team lost in the fourth round of the state playoffs to rival and eventual state champion Jordan Matthews, 63-49 March 2.
JM's leading scorer was 5-foot-10 junior Mylia Garner, who scored 29 points and is ranked among the top players in the state.
"Coming off a good win against Whiteville, we were overconfident and that led to us not playing to our full potential against JM," said senior forward Shelby Wolfe.
Wolfe, one of the Chargers' top scorers, finished her high school career with 1,173 points.
Northwood finished its season with a final record of 26-4, winning the conference championship for the first time since 1984.
Boys' basketball loses in 2nd round
The boys' basketball season ended with a second-round loss to West Bladen.
According to coach Russ Frazier, the playoff loss could be accredited to low effort and intensity.
"We did not play very well," said Frazier. "[We] lacked effort and intensity, but then when playoffs come, a lot of that comes from experience, and we did not have a lot of experience."
Overall, the team finished 15-1 in the conference. Looking back on the season, Frazier said the main highlights were watching the young players improve while working with the seniors for a final time.
Swim team places 4th at states
The girls' swimming/diving team placed fourth at the state championship in February.
"Most teams have 20-40 members and send larger teams than Northwood to this meet," said coach Angie Burton. "We are small, but are good enough to score a lot of points."
Junior Philip Straughan, the only boy representing Northwood, placed seventh and eighth in his two races, earning Northwood 23 points by himself. Freshman Bailey Revels placed second in the 100-meter diving. Freshman Rory O'Dell placed third in the 500-yard freestyle.
Wrestling finishes 13-4
Northwood's wrestling team finished with a record of 13-4, including a win against Cedar Ridge for the first time in history.
Senior Daniel Foushee, junior Jourden Blackmon and junior Thaddeus Tallman qualified for states.  Even though none placed at states, wrestling coach Jason Amy said it was a good learning experience.
"We're building up and we're getting ready for next year," Amy said. "Hopefully we will win the conference and win that state title next year."
— Compiled by Emily Brooks, Ally DeJong, Anna LaRocco Masi and Sterling Logan