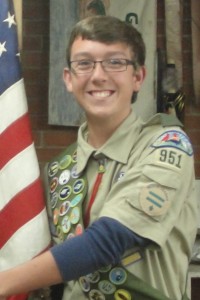 When many people think of Boy Scouts, they picture young kids selling popcorn or tying knots. But little do some people know, many high school students still participate in the Scouting program.
There are several ranks in Scouts, from the beginner's Tenderfoot rank, all the way up to the advanced Eagle Scout. Senior Jackson Seagroves, a Boy Scout since the fifth grade, recently earned his Eagle Scout rank, making him the only Eagle Scout at Northwood. For his Eagle Scout project, he built the uniform closet in the band room. Seagroves believes that participating with Scouts as a high school student is beneficial.
"I think it helps prepare people for the real world later in life. It teaches [you] things [you] need to know, [like] how to survive," said Seagroves. "If I were lost in the woods, I think I would live."
History teacher Phillip Little, who was a Boy Scout in high school with famous actor Zach Galifianakis, also believes that the Scouts help prepare you for the future.
"Scouts was a huge influence on me. It opened up many opportunities…. It teaches leadership; it teaches young boys how to be men, which is what my Scoutmaster said," Little said.
Scouts are divided into troops, in which they learn new skills and travel to different places such as a Boy Scout ranch known as "Philmont," and the Grand Canyon. Sophomore Gabe Duff reflected on his experience at Philmont where he said his troop backpacked 57 miles over 10 days, and participated in activities like rappelling, blacksmithing, horseback riding and archery.
Seagroves went to the Grand Canyon as well as Zion Canyon, which is a slot canyon and can be 10 to 75 feet wide. His troop had to walk through water in the canyon that was up to their ankles, and travel through water that was so deep they had to take off their backpacks and swim.
Senior Connor Tripp said that going to Philmont was one of his favorite memories of Scouts, and, like Seagroves, feels the benefits of being a Scout from the academic standpoint.
"I couldn't say for sure, but I like to think that there are advantages. [Colleges] see that you have done something in terms of character, and that you do help your community," said Tripp. "If you're an Eagle Scout, [colleges see] that you're able to take something from a conceptual standpoint and take it all the way to finish it in the real world."
Little added that not only does being a Scout help when applying to college, but that it also carries through when it comes to applying for programs and jobs.
Regardless of the benefits though, according to Duff, managing Boy Scouts and high school academics is no easy task.
"As you get [further] into high school, you have less free time and less time for Scouts," said Duff. "It's harder to get your ranks."
Seagroves, a member of "The Order of the Arrow," a Scout honor society, agreed with Duff.
"[There is] so much time management [involved]. You have nights when you have a lot of tests the next day, but you have to go to a [Scout] meeting, or you have a project or camping trip that weekend," said Seagroves.
In addition to the difficulties that come with being a high school Boy Scout, Duff shared another challenge.
"We need more Boy Scouts [because] people don't consider it to be important anymore, [just] something nerds do," he said. "[Scouts] helps build character. Being around a bunch of good people that really care about you and teach you how to do [certain things], it rubs off on you."
Although Duff sees a lack of high school Scouts, Tripp added that the scouts are "a tight-knit community."
Little shared similar views.
"It is kind of like a fraternity. It's a neat way to start a conversation with somebody. If I see anybody that's walking up and down the hall with a Scout shirt on that I recognize, I'm instantly going to go up and shake his hand," said Little.
–By Emily Brooks