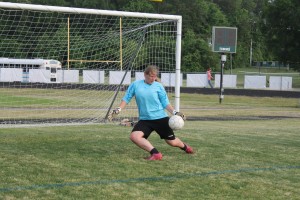 Every year, Northwood opens its doors to exchange students from around the world. Although each of this year's four exchange students come from different parts of the world, they all have one thing in common—sports.
Jakkarat Soonthornrak, known around Northwood as "Book," is a junior from Thailand. He ran cross-country and was on both the JV and varsity wrestling teams earlier this year.
"I chose [cross-country] because my friends said it was really fun and I liked it a lot. For wrestling, Coach [Jason] Amy said I should do it, so I did it," Soonthornrak said.
Soonthornrak said his teammates in cross-country and wrestling were very open and friendly when he joined, giving him lots of support. He said his coaches were also supportive and let him join the teams even though he was fairly new to the sports.
"I liked [Amy's] motivation; he told us to keep [working hard] and we would do it. I liked how he believed we could do something," Soonthornrak said.
Both cross-country and wrestling gave Soonthornrak a chance to try something he had never done before.
"I like the people in [cross-country]," Soonthornrak said. "I liked how it worked; anyone could play. You don't have to be on varsity to play, and everyone was really nice."
Sam Pruegner, a sophomore from Germany is also involved with soccer as well as football. Pruegner is also currently one of the managers for the girls' soccer team. On the JV football team, he was a linebacker as well as the kicker, playing in a few of the games.
"I started football here because it's the biggest American sport," Pruegner said. "It gives me good experience."
In Germany, Pruegner played an outside center in rugby, which has some similarities to football. When Pruegner played football, he said that his favorite part was tackling other players.
"[I liked] tackling because you can hit somebody and it's legal; the [rules of] football are really awesome," he said.
Pruegner is also planning to do more rugby and a little bit of football when he returns home to Germany this summer.
"I'm going to at least start [playing football] and see if I'm comfortable with it," Pruegner said. "If not, then at least I started it."
Italian exchange student Angela Pizzichetti, a senior, has participated in volleyball, cheerleading and is currently one of the girls' soccer managers.
"I knew how to play volleyball and I used to play soccer, but I had never done cheerleading before," Pizzichetti said.
Starting JV and varsity volleyball, Pizzichettit was glad she was able to make the team and play setter.
"My belief is that you want to experience all of what coming to high school is about, and [Pizzichetti and exchange student Lara Linden] actually are very decent athletes; they didn't just get it because of the exchange, but also to get experience from teammates," said volleyball coach Rick Perry.
Volleyball coach Steve Thomas agreed.
"We wanted to give them a taste of what it was like to play volleyball," he said.
Cheerleading coach DeLisa Cohen asked Pizzichetti if she wanted to join cheerleading, and be a base to the flyers.
"Cheerleading was something new that I didn't have in Italy," Pizzichetti said.
In the spring, Pizzichetti also tried out for soccer, but was asked to become one of the managers instead.
Another German exchange student is Lara Linden, a junior involved in soccer and volleyball at Northwood. Linden was on the volleyball team and currently plays as the goalie for the varsity soccer team.
"I like the games, when you're [under] pressure, you really have to work [hard]," Linden said.
Linden is also happy with her teammates and coach because they are open and friendly to her. She says she is also grateful for her coach, Kevin Tanceusz because he has helped her a lot during the season.
"He knows a lot about soccer because he plays; He also knows the tactics. I had a coach in Germany that just read the books and said you had to do this and that, but [Tanceusz] actually knows what he's doing," she said.
Playing for 10 years, Linden has had plenty of experience in soccer. She says that she plans to play in the future, and when she returns home to Germany at the end of the school year.
"That's my sport; that's what I've done all my life," Linden said.
–By Taylor Maloch