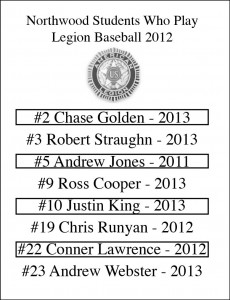 This summer is the second year that Chatham County legion baseball has had home plate in Pittsboro, right here, on the Northwood Chargers' baseball field.
Chatham County legion baseball consists of two teams: junior legion and senior legion. The senior legion team played in the 90s and early 2000s, when home plate was in Siler City, and the junior legion team is in its fifth year now, a league that has always been in Pittsboro.
Legion baseball is a baseball summer league for kids who are 19 and younger, which is played from mid May to the end of June, with playoffs starting in July. It's a program with professional-style tryouts, where the coaches look at what each baseball player brings to the table, not only in what they show during tryouts, but also their course of work over the spring high school or college season. From there, the best of the best are chosen to play on the teams, from a limited number of high schools in the area.
"The idea is that the more quality baseball you have in the area, you're going to have a more productive system," legion general manager Rick Parks said. "Most of your quality programs have a legion program associated with them. It's a higher end than high school baseball."
The American Legion baseball program, which is a veteran organization, describes itself on its website as a "national institution," that continues to stand behind the morals its had since the league was created in 1925. The website states that the league "has taught hundreds of thousands of young Americans the importance of sportsmanship, good health and active citizenship."
Parks says that over the years, usually 5-12 Northwood students make each team. This year, both school record-breaking junior Ross Cooper, and Extra Effort Award winner, senior Connor Lawrence, are on the senior legion team, with a few other Northwood players.
Senior legion head coach, and Northwood varsity baseball assistant coach, Brian Brice, says that he enjoys working with the Northwood students on his legion team.
"They're good kids," Brice said. "They're very coachable, and they have good chemistry coming from the same team."
Last year, the senior legion team finished the season three wins away from the state championship game. In its first year back, the team finished with a successful 18-7 record.
Playing with more talented team mates gives students on the team a chance at playing at a higher level.
"Most of the time, if you're going to be good in legion you're going to have successful players," Parks said, in reference to the players from Elon, UNC-W, Princeton and Pfeiffer University who were on the senior legion team last year.
Northwood junior Andrew Webster says that he enjoys playing on the legion team more than playing on Northwood's team.
"[I like] senior legion because there's more competition and the pitching's a lot better," Webster said. "There are people who come back from college and play."
Matt Wade, a Pfeiffer University infielder, graduated from Northwood in 2010, and played on the Chatham County legion team last year, too. Although Webster sees the league as a way to improve by playing against better competition, as a college player, Wade saw playing in the summer league last year differently.
"The skill level of the players is much greater in college [than in] legion," Wade said. "It built my confidence up, and it was fun to play, but the pitching wasn't as good.
"It's really relaxed [and] there's not a lot of pressure, you just go out there and have fun."
Both Parks and Brice agree that the Chatham County legion is hoping for another successful season.
"We are working out the wrinkles [from] last year and we're looking forward to another great year," Parks said.
– By Caroline Schneider