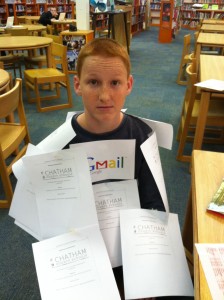 At the beginning of the school year, e-mail sites like g-mail were blocked for all students during school hours, available between 3:16 p.m and midnight on school nights and open all weekend.
Recently, revisions were made for juniors and seniors to have access to e-mail during school hours, but the freshmen and sophomores are still blocked during the day,
"I don't think it's fair for only juniors and seniors to have access to these sites because most teachers do somewhat teach online; therefore, everybody should have access to their e-mails," senior Alajah Dudley said.
Many students were used to using their personal e-mails to communicate with teachers, rather than the stu-mail accounts given to each student. The new e-mailing system took some time for some students to get used to.
"I didn't like it because I had to e-mail my teachers, then I had to figure out how to use the student e-mail which was more work," senior Brenda Martinez said.
According to Chatham County Schools, in previous years there were problems with misuse of the laptops. The decision to go through with the block was made by Chatham County School's director of technology, Keith Medlin.
"Students were most frequently using their personal e-mail accounts for non-instructional activities. In a number of cases we found personal e-mail access during the school day facilitating bullying, academic cheating and served as a distraction during class time," Medlin wrote in an e-mail.
Medlin said he lifted the ban on juniors and seniors to allow them to better communicate with colleges.
The block has affected some teachers and students. According to teachers, many students have raised concern about the e-mail block.
"I have heard a lot of students complaining about it. I think most of them just think it's unfair, but I will say that I have had problems with students using g-mail and g-chat in the past," said social studies teacher Roddy Story. "It's one of those things where I would bet that these things wouldn't be in place if g-mail and g-chat had been used responsibly by students."
–By Kiada Capel