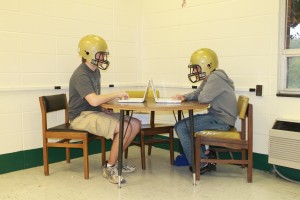 On Sept. 17, I went to bed sad and hopeful. That particular night, I was losing in fantasy football. To the worst team in the league. The score line read: 77.90-57.6. Matt Ryan was my starting quarterback and was playing Denver that night. I was confident that "Matty Ice" could get me the 20.30 points I would need to pull out a win.
Before I continue, I should explain the sensation. Fantasy football is a game that makes good use of numbers. Everything that a player does is quantified and spits out a certain number of points. Teams are set up with fifteen players (or sixteen if the league uses a slot position), but only nine of those start and earn points towards your team's total that week. You face off against other teams each week, with the regular season ending in a three-round playoff.
Now, let's flash forward nine hours to the morning of Sept. 18. As soon as I woke up, I turned on my computer to check the score. I nearly fainted when I saw the number next to Ryan's name: 52. It was then that I noticed that my record had changed to 1-1. How could I have lost when Ryan put up that many fantasy points? I soon realized that those 52 wonderful points were all the points he had earned in the season. He had actually gotten me 18.66 points Monday night. The final score: 77.90-76.26. I don't think I've ever been that disappointed.
This game is a godsend for someone like me (even after such a depressing loss), who doesn't like football for football. Fantasy football gives meaning to football that I can't get anywhere else, and it's that meaning that has kept me around for this long. Every pass equals more points. Fumble recoveries equal points, pick-sixes (interceptions returned for touchdowns) earn points, and even the boring, time-wasting point-after attempts earn you points. And points equal wins.
Fantasy football is a game with both a lot of luck and skill necessary to win. Matt Ryan might put up 32 points one week, and 18.66 the next. Torrey Smith might never get a touchdown until the game he gets two. You need to be willing to take chances on players, in the hopes that they'll turn in great performances, or continue to turn in great performances. It's that randomness that leads to some of the best moments in the "sport." San Diego Chargers running back Ronnie Brown has become a running joke in my league thanks to the high hopes of one team owner, and the subsequently abysmal performance Brown turned in.
I love everything about fantasy football, from the jokes about players, to the skill, and even to the luck required to win. Thanks to fantasy football, the NFL has found itself a new fan. A fan that plans on sticking around as long as good fantasy football times can be had.
–By Jack Teague