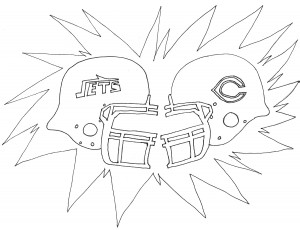 "Everybody is crazy and ready to play. You have a bigger adrenaline rush because you know they're out to get you just as much as you are to get them," senior football player Jourden Blackmon said.
Rivalries amongst high school sports teams can be traced back for generations. The differences lie between good sportsmanship and having no respect for the other teams. It is what fuels the players and intensifies the game.
"Coach will always get on us more and tell us we need to step it up and do better when we play DSA (Durham School of the Arts)," sophomore wrestler Grayson Bryant said. "I tend to feel the pressure to do well and I don't want to let down my team."
Rivalries are mostly sports related, and each sport has its own rivalry.
Senior Gaby Mehringer plays basketball and says their rivals are Jordan Matthews.
"It's only a rivalry in basketball and football," Mehringer said. "If you think we're rivals in general, we're not."
Blackmon says that the football rivalry is with Jordan Matthews, because that is how it has always been.
"[They're our rivals] because of the tradition of how long it has been going on. When I came in, everyone hated JM," Blackmon said.
Unlike football and basketball, soccer players say their chief rival is not JM, but Carrboro.
"For some reason, when we hear Carrboro, we don't get psyched out necessarily, but more anxious and always have the urge to beat them," senior Diane Thompson said. "It's a lot more high energy and positive with our team."
For some players, sportsmanship gets worse when they are playing rivalry games.
"I'm definitely a little bit cockier. It's like a show; you're putting on a show for people," said Mehringer. "So if I win a ball or they foul me, I'll clap in their face or something like that. [Sportsmanship] definitely goes down; I'll still help them up, but if I made a good play and made them look stupid, I'll rub it in their face."
Some players think they have more sportsmanship than the other team.
"We are very composed when we play them and for some reason they don't give us the same kind of courtesy," Thompson said of Carrboro.
Teams with rivalries usually participate in trash talking and display high levels of cockiness. Most Northwood students claim to be more respectful than the other teams.
"We just let our playing do the talking. There is just one goal and it's to beat them so they stop talking," junior Jay Williams said.
Sometimes trash talking is taken from the field to social media sites.
"There is always a lot of tweeting going on about who's going to win and maybe after about somebody cheated," senior football player Kendrick Edwards said.
Mehringer believes players should not be involved in social media trash talking.
"I try and stay off of it because if I'm a player, I shouldn't be getting into that because I don't want to be punished [by my coach]. It's just a bunch of crap talking; everyone forgets about it the next day," Mehringer said.
Some students will remain bitter from their losses against rivals and build up negative emotions for years to come.
"I don't respect them and I hate them. I have angry emotions [towards them]. I just want to beat them," sophomore soccer player Jerry Silvestri said.
— By Jessica Clayton & Ally DeJong