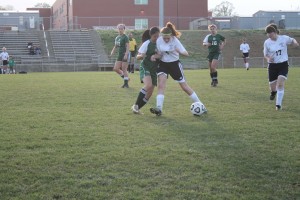 It's not too often you see a freshman in high school playing on a varsity team. Athletic greats like Michael Jordan, Peyton Manning and Ted Williams were not even on varsity teams as freshmen. Varsity freshmen are a rare breed, and play for many different reasons.
Freshman Chaz Bailey has been playing basketball since fifth grade and was not expecting to make the varsity team his first year in high school.
"[Coach] wants me to develop, which might be why he chose me for the team, to get up to [the upperclassmen's] abilities. So when I do get to be a junior or a senior, I'll destroy everybody," Bailey said.
Bailey played anywhere from one to three quarters a game, and felt it was a good way to get the needed practice to be a successful starter later in high school.
"I got to be with the coach, and got some experience with him," Bailey said.
Playing on the varsity team makes other freshmen feel like they are getting better as well.
"I think I'm learning a lot on varsity, and it's good to see people who are older and better, then you can know what to shoot for," said Ellie Saksa, a freshman soccer player.
While seeing skillful upperclassmen play can usually help with making freshman athletes better, it can sometimes be a little overwhelming.
"It was kind of scary at first because there were a bunch of upperclassmen, but you learn a lot being with all the older players who are better," said freshman softball player Kayli Blankenship.
Despite the fact that they are younger, junior lacrosse player Rob Hamlet feels like it is necessary for some freshmen to play varsity.
"I think it's good that [freshmen] get the experience with playing with better competition. It's a good thing we have seasoned players on the team when some of the older guys leave," Hamlet said.
Once the fear of playing with older competition is conquered, there comes the sense of responsibility to work hard.
"You feel like you have to play better because you made the varsity team. You're supposed to play better than the other freshmen," Blankenship said.
Freshman Anna Jasper, who plays softball, agrees.
"You have to work a lot harder than the older girls to keep your [varsity] spot," Jasper said.
Being a freshman can sometimes lead to different expectations from coaches and even teammates.
"[The coaches] usually go harder on us because most of our freshmen are really good, and they expect a lot of us to keep up with the older girls," Jasper said.
Even though some freshmen may be less experienced than their upperclassman teammates, coaches usually have high expectations for the entire team.
"They expect the most out of all of us, but they don't expect as much for us to have knowledge about the game as everybody else," Blankenship said.
Although there are definite hardships for freshmen on varsity, there are also many good things that come with playing.
"I've met a bunch of good friends, and I think I've gotten a lot better [at softball] because you practice harder," Blankenship said.
Meeting new people is one of the many perks of any freshman's varsity debut. One freshman from the golf team, Carter Denny, feels that being on varsity has helped him make many new friends.
"I've hung out with these guys a lot, and they've really made me feel like family," Denny said. "They help me with my game, as well as giving me a few friends here in high school."
— By Tyler White