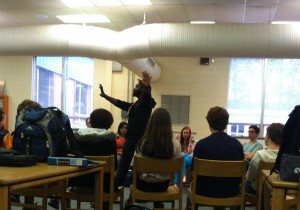 A lone student stood in the middle of a circle of chairs.  Emotion clear in his voice, he begins to recite the poem he had been working on, voice rising and falling with his spoken energy.  The room is silent, students eyes locked on him and afterwards, when he's finished, the young man returns to his seat.   His words are not lost on others; a few students even shed tears.  A round of applause and snaps quickly follow in his wake.
The creative writing club, the Northwood Inklings, sponsored a spoken word poetry workshop on Monday, April 15.  The workshop included a special guest poet , CJ Suitt, from the Sacrificial Poets, an award-winning spoken word poetry organization from Chapel Hill.
The workshop allowed student poets and writers alike to gather, work on their writing, and to listen to some professional spoken-word poetry, as well as the works of their peers.
"The Sacrificial Poets are a group that write poetry, memorize it and preform it for an audience," English teacher Ben Thompson said.  "The group holds poetry events like poetry readings, and go to different schools in the region and hold workshops for the students.  They try to get the students to read their own poetry and express themselves."
Following some spoken-poetry, students were given the opportunity to work on their own writing through a series of exercises inspired by important events in their lives.
"I think it was good for students to go," freshman Kat Taylor said.  "Writing is a pretty easy way to let out stress or use your emotions in a creative way; hearing other peoples poems was really inspiring, and I was really surprised how much I felt like I could relate to some of the lines from other poets."
The event itself offered a promising glimpse into future events to be hosted by the Inklings.
"The reason the Inkling's did this event is because we have been playing with the idea of slam poetry all year, and we wanted to expose both the club, and the rest of the students, to a real live expert on the subject," Thompson said.
Thompson eventually wants to recruit a group of students to form a spoken-word poetry team.
Even after the event was over, students kept talking, excited to share more with the group.
"I had a lot of fun at the poetry workshop," junior Anna LaRocco Masi said.
"It was a great place for writers to come together in an open environment and just do what they love."
–By Meredith Norman