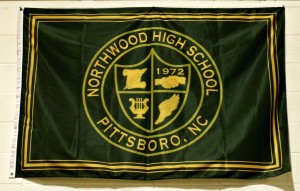 Northwood won a silver medal and was ranked as the sixth best high school in North Carolina and 899th nationally according to U.S. News and World Report. This is the first time Northwood has ranked in a medal position for U.S. News and World Report. The news was released April 22.
"Right off the bat [this ranking] means that we have bragging rights," principal Chris Blice said. "It means we have bragging rights in kind of a big circle because if you take a look at the list, it's a pretty elite group. It's nice to be recognized both on a state level, which we have been for quite a while, but also to be recognized nationally."
U.S. News worked with American Institutes for Research (AIR) to calculate the rankings. They ranked schools based on the serving of all the students at the school and the ability to produce outcomes that show the school is educating students successfully.
For national rankings, schools were judged by three steps. First, schools were looked at by the performance of students in reading and math to see if students were performing better than average. The second step was to see if the least-advantaged (minority and low-income) students were doing better than average compared to the same students in the state. The last step is the college-readiness performance using test data from AP classes or IB classes. This was used to see which schools produced the best percentages in college-level classes.
"I think that [the ranking] shows is overall an improvement in our academic focus as well as the level of academic rigor for our typical students," Blice said.
Northwood received a 34.7 on the college-readiness index with 47 percent of the students testing in AP classes and 31 percent passing an AP test.
"I think [students] should feel like they're a part of a school that's continuing to improve and grow and that they're a part of something that's really big," Blice said. "Northwood has never been ranked on these types of things in years gone by, but it's just started in the last five years and students have been a part of that."
Jordan Matthews was the only other school in Chatham County to be ranked, coming in at number 15.
Northwood was ranked in Newsweek list in 2009 and 2010, but never in U.S. News and World Report. Northwood was a School of Distinction in the school years 2009-2010 and 2010-2011. Last year the school was also named a Washington Post National Challenge School and a Piedmont Triad Education Consortium Signature School, both based off of student achievement.
Blice doesn't think the school will be ranked in the U.S. News and World Report again next year, though, because of AP exams being optional.
"I seriously doubt we'll be on the list [next year] because of the way we're approaching AP testing, but so far as the state accountability model, I'm hoping we'll be an A plus school."
— By Tori Nothnagel