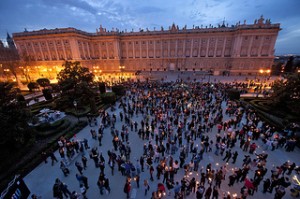 The world is full of countless religions with rich histories and devoted followers. Several interesting branches have a presence in the school.
Among them is Unitarian Universalism—which sounds a bit like something from science fiction. It is, in reality, a combination of two Christian religions.
"Over the past 50 or 60 years, [Unitarian Universalism] has really become separate from Christianity," junior Carter Smith said. "So it's kind of new and emerging… we have a pretty small population, but it has been growing a lot recently."
The Association of Statistics of American Religious Bodies found that in 2000 to 2010, Unitarian Universalist numbers increased by 15.8 percent.
A lot of what Unitarian Universalists believe centers around the individual. Smith says that within the group "you have to define for yourself what your religion is" and "stick to it."
"We don't have a religious text, or specific things we believe in, except we all agree that people are really important and [so is] individuality," Smith said. "And we believe in the democratic process and also that our faith should lead us to do good in the world."
Unitarian Universalists, like Christians, meet on Sundays and have "worship."
"We have hymns coming from various traditions and we have a sermon that talks about a specific religious belief or ideal… or some issue that's going on in the world. Instead of having prayer, we have meditation time—and some people do use that to pray," Smith said.
Unitarian Universalism is Smith's "entire life."
"It has given me so many opportunities in life. I've traveled so many places with my church and it has completely changed who I am," Smith said. "My parents met at a Unitarian Universalist church, so I would not be alive without this religion."
Junior James Calhoun is a Mormon. His parents, who are also Mormon, introduced him to the religion, but he says he ultimately chose to follow it on his own.
"I looked into it and thought about it and prayed about it and I just think it's true. I like what it's done with my life and I believe in it," Calhoun said.
He says Mormons are "Christians with some defining characteristics."
"A key thing that, I would say, separates us from the Catholic Church and other [churches] is that we don't believe in the trinity: we believe that God, The Father, Jesus Christ and the Holy Ghost are all separate," Calhoun said.
There are also concepts that make Mormons distinct.
"We believe in modern day prophets, so we believe that the power of God is still on earth and can be revealed," Calhoun said.
Calhoun has religious plans for when he graduates high school. There is a tradition (though not an expectation) in Mormonism that young men venture out into the world to promote the religion. This is what Calhoun plans to do.
"I'll devote two years straight to telling people about the church—and I have to pay for that, so I'll have to start earning money—and then you get assigned where you go. It's a pretty big commitment; you can't see your family," Calhoun said.
He values what being a member of his religion says about him.
"[Being Mormon] is one of my defining characteristics," Calhoun said.
Sophomore Gabriella Cila practices Judaism.
"My mom's side of the family is Jewish, but I kind of chose it myself," Cila said. "My parents never put pressure on me to go to Hebrew school."
In the sixth grade, Cila says she decided that she did want to be Jewish. She started preparing for her Bat Mitzvah (a Jewish coming of age ceremony).
In Judaism, the term Mitzvah extends beyond coming of age ceremonies.
"We don't believe that Jesus was the Messiah, so we do Mitzvahs to get the messiah to come—and Mitzvahs are good things," Cila said. "All the holidays and all the prayers are considered Mitzvahs."
Cila values her religion in the way it connects her to her ancestors.
"I like being Jewish. My mom's side of the family came from Europe to be free Jews, so if they could be free Jews, I want to be," Cila said. "I want to take advantage of what they provided for me. So that's why I like practicing Judaism."
– By Quinn Kerscher