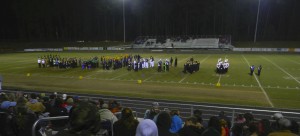 Congratulations to your Marching Chargers once again!  At the Union Pines Viking Classic the Marching Chargers continued their undefeated streak and pulled in another superior rating with a score of 90.2 overall.
In class 3A competition your Marching Chargers brought home 2nd place colorguard and drum major along with 1st place percussion, 1st place music, 1st place marching and 1st place overall 3A band.
Your last chance to see the marching chargers in competition will be at Lee Senior High School on Saturday November 2.  They step off at 6:55pm.  Come on out and help cheer them on to what could be an UNDEFEATED season!
Photos courtesy of Valentina Moreno