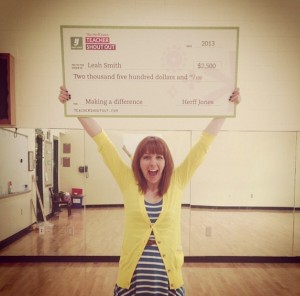 Every year, Herff Jones hosts a contest called "Teacher Shout Out" that gives students and faculty the opportunity to express gratitude towards a teacher, advisor or school coach.
This year dance teacher Leah Smith was shocked to find out that she was not only in the top 10 and a winner of $5,000, but Smith had the most votes out of all of the 3,000 nominees all over the country.
"We were just saying [to our students], 'Yeah, vote!' We never thought anything could have come out of it, because we didn't know how many were in my category, or how many votes I had; I could have four, I didn't know," Smith said. "I found out I was one of ten, during a teacher workday. The lady from Herff Jones came in and said I actually had the most votes of the whole country, which was crazy and made me cry."
Fellow dance teacher Kristen Norwood, who was a former student of Smith's, expressed how thankful she was to have a woman like Smith in her life.
"I met Smith when she came here to teach. Before she came, I was going to be a business major. I was introduced to her as 'the soccer player.'That's who I was. When I walked into her dance class, she made me feel like it didn't matter if I wasn't the most flexible, tallest or if I wasn't the skinniest. If I had a passion for it and can pursue it and put my mind to it, then it is something I can do.  She is the one that really inspired me and encouraged me to pursue my dream of dance," Norwood said. "She really gave me confidence. When I went off to college and when I questioned myself, I always knew that I could call her. She always has supported me with every step when I was deciding to be a dance teacher."
In order to be a part of this competition, students had to give a "shout out" to a teacher on the Herff Jones website. Then, students from the school were allowed to vote for the teacher every day via email.
When Smith told Norwood that multiple students had nominated her, it did not take a second for Norwood to know why.
"[Smith] just embraces everyone no matter what. She always creates a safe environment for people to walk into. Everyone is just drawn to her because of that. Smith is just calming and always gives the best advice," Norwood said.
Juniors Taylor Roberson, Kyndal Hutchinson and graduated student Rebecca Jones nominated Smith while a couple  other students remained anonymous.
Hutchinson shared how her relationship with Smith started and how it grew.
"[Smith] is an inspirational teacher to me, I have known her for about five years because of my [older] sister. She has taught me a lot, not just dance. I feel like I kind of owed her," Hutchinson said.
According to students, Smith knows their different techniques and uses them to improve in class.
"[Smith] really gets to know students on a personal level. She knows your strengths, weaknesses and she's really funny. She knows how to let you laugh, but also how to be serious." Roberson said.
Outside of making dance class grow each year, Smith also allows students to be able to come and talk to her to help decide on their future career path.
"She has made my high school experience worth while. She is the main reason most of us come to school every day because we have dance," Jones' online Teacher Shout Out said. "She has made the dance program double and maybe even triple in size and I don't think I could thank her enough. She has helped me decide what I want to do when I go to college!"
The total prize money that was given to each winner was $5,000. Half of it is used toward the school to help improve the department the teacher works in and the other half is for personal use.
"With my $2,500 I have super big plans," Smith said. "I'm taking [my son] to Lego Land and the rest will go to his college savings account; it's all going to [my son] Lincoln basically. The rest of the money goes to [The NHS Dance Department] to buy costumes and things like that."
Smith received two checks at the faculty meeting, but the fame has not ended quite yet. Smith was notified to prepare for an interview that would be posted on the Herff Jones website.
"[The Herff Jones company] really wanted to keep [the interview] kind of natural, so they basically asked a lot of questions I had never heard before to get my honest, sporadic answer," Smith said.
During the interview Smith was asked whom her mentors were when she was in school.
"My mentors were my art teacher in high school and my dance teacher: those are the reasons I became a teacher," Smith said.
Smith is not planning to be a part of the competition next year to give another teacher the opportunity to win.
"No, that's not fair!" Smith said. "I will let someone else take the money next year."
– By Savannah Castor