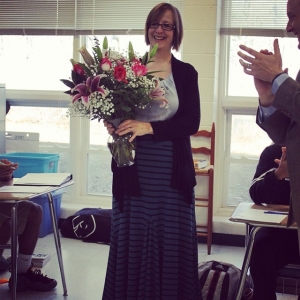 English teacher Kathy Greenlee was awarded the Northwood Teacher of the Year Award Feb. 27.
A Northwood teacher for six years, Greenlee was recognized for her ability by her fellow teachers. She was at a loss for words when presented with the awrad during class by principal Justin Bartholomew and the English department.
"I was just overwhelmed," Greenlee said. "They came in, Dr. B holding flowers, and my students knew what was happening before I did."
Northwood's teachers nominate candidates and then vote on their choices to receive the award.
"I would never have expected it in a million years," Greenlee said. "There are so many great teachers in the building, and so many great teachers who have won the award before me; I still feel like I'm a work in progress of sorts, so it was just so thrilling when I realized that I had won it."
Greenlee said she grew up near a library and was captivated by books from a young age, and decided to pursue a career in English once she was in college–reading to her children inspired her to take up a career in education.
Greenlee's students also hold a high opinion of her.
"The way she talked about what she was teaching and all of her examples are what made her a great teacher," senior Tonija Lee said. "She was also really funny… she told funny jokes all the time."
This was a sentiment shared by junior Wendy Moore.
"Mrs. Greenlee is really relatable, and she makes everything interesting," Moore said. "I think she deserves it because she always finds a way to make the whole class laugh with her stories, and it keeps us interested in her teaching."
In the wake of the award, Greenlee simply hopes to keep teaching.
"I want to keep doing this until I cannot do it any longer," Greenlee said. "The positive impact on the students is what makes it all worth it. I am very thankful to my fellow teachers and hope to live up to what other Teachers of the Year before me have accomplished."
– By Donald Yates