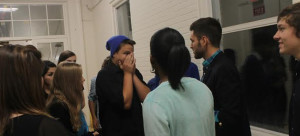 For many students, singing is a way of expressing emotions. Pitch Please, Northwood's a cappella group, is made up of some of the best vocal musicians in the school.
"I've been in [Pitch Please] for about two years. I joined after I saw them at the fall concert," senior Sean Thompson said. "After I saw their performance, I knew I wanted to be in the group. I auditioned with [Matthew] Hanson, and about five days later I was in the group."
Pitch Please serves as a musical outlet for its members, but is also a good support system among the students.
"Everyone gets along so well. We have a lot in common. It's almost like a second family for me, especially being here at a new school," senior Jawuanna McAllister said. "It's usually really hard to make friends at a new school, but I got to know a lot of people in the first few weeks of school."
McAllister was in the a cappella group at her old school, and looked forward to seeing what Pitch Please had to offer.
"When I found out that [Northwood] had an a cappella group, I was really excited," McAllister said. "It was something I could be a part of here at a new school."
SoJam, an a cappella festival and collegiate competition, announced a high school video contest that would reward the winning group with the opportunity to open for the competition and attend various workshops throughout the weekend. Pitch Please submitted their video, singing "Ain't It Fun" by Paramore.
"The requirements for the video were to record a video of a song with no audio changes done and only video adjustments made if needed," vocals teacher and director of Pitch Please Matthew Hanson said.
SoJam chose Pitch Please to perform at the competition held at Durham School of the Arts alongside six collegiate a cappella groups from around the country.
"It doesn't seem like SoJam is that big of a deal because it was held in Durham, but it is a great achievement for us to have been chosen for this competition," Hanson said.
"[SoJam] was amazing," McAllister said. "It was an incredible experience. It was hard to be professional, especially since Avi Kaplan was there."
Kaplan, the bass vocalist for the popular a cappella group Pentatonix, was a judge for the competition as well as a teacher for one of the master classes.
"I got to sing with Avi and it was unbelievable. We sang his song 'Run to You' with him and it was… I just can't put it into words," Thompson said.
After developing his musical skills in Pitch Please and spending time at SoJam, Thompson has decided to pursue music as a career.
"[A cappella] gave me a purpose in high school," Thompson said. "I know what I want to do with my life now."
– By Emma Reinberg