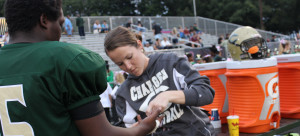 "My favorite part of my job is getting to help kids through the whole process of the injury," athletic trainer Jackie Harpham said. "I'm usually here when it first happens; I am able to evaluate them and figure out what's wrong, help them throughout the rehab process and get them back on the field."
Harpham is Northwood's athletic trainer and Sports Medicine teacher. She came to Northwood last year and was hired by athletic director Jason Amy and former principal Chris Blice.
"I was down here for two years during grad school; I got my master's at UNC and as I was getting ready to graduate, I decided I wanted to stay in this area," said Harpham, who is originally from Downingtown, P.A.
This is Harpham's first job working as an athletic trainer for a high school. She works full time at Northwood, and she is dedicated to helping athletes here.
"Her drive and determination to strive for the best are very apparent," Amy said. "She is very thorough as far as getting everything done. She is extremely professional."
Having somebody who is educated in athletic training here at Northwood can benefit the student athletes. Harpham brings attributes and skills that show professionalism, allowing the athletes to feel comfortable when coming to talk to her about an injury.
"She has absolutely given the students at Northwood the opportunity to feel the safety of having someone that skilled in medical attention here at all times," Amy said.
Harpham has had to make changes since she has started working at Northwood. Before her arrival, Northwood did not have an exact plan to follow procedurally in the event of an emergency.
"When I first got to Northwood, the first thing I did was create an emergency action plan, which is a plan to access the emergency medical system," Harpham said.
The emergency action plan consists of different step-by-step processes to take in the event of an emergency such as injuries or bad weather.
"This is actually a law in North Carolina, so this was a really important first thing for me to do," Harpham said.
She gave each of the coaches a copy of the new plan so they would know what to do in the event of an emergency. Having a step-by-step plan that was actually enforced was new to coaches.
"I think that all coaches can be a little hesitant to change, but when they saw that I was here for the benefit of our students, and for the safety of our students and when they see that anything I do is for their well being, they are usually very open and welcoming and accepting of the decisions I make," Harpham said.
Students have also responded well to Harpham's Sports Medicine class.
"She's very interactive; she does lots of projects and gets us all involved in what we do," senior Courtney Wilson said.
Wilson is one of Harpham's student trainers. She helps her treat injured athletes, as well as making sure all athletes have water.
"As a trainer, she works hard, so it makes us want to work hard. She does a good job of doing what she does," Wilson said.
Senior student trainer Briana Robinson agrees.
"I feel like she makes us more responsible and she prepares us, because most of us [trainers] want to go into the medical field," Robinson said.
Harpham arrives at Northwood for the second part of the day to teach two Sports Medicine classes, and is here until the sports games and practices have ended.
"She is the backbone of all athletics; she is always here supporting everyone and we appreciate everything that she does," Amy said.
Harpham feels that working at Northwood has been a positive experience for her so far.
"I feel really lucky; this is my first job out of school," Harpham said. "I feel blessed to be at a place that has been so welcoming to athletic training and with so many great kids that I get to help."
– By Jamie Palermo