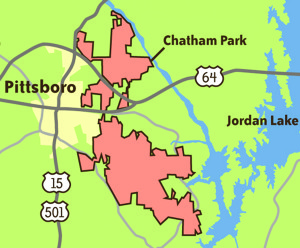 I've lived in the same house for about 13 years. I went to Pittsboro Elementary School around the corner from my house, and I walked to and from Horton Middle School. I can stroll into town for a quick snack or the local library for a book. I sleep comfortably at night knowing I live in a safe area. I can hear the bell tower when it does its afternoon rings and the local bands playing weekend nights. I see my friends working in town and teachers that I haven't seen in awhile. I can go on a trail near my house or head to the lake with friends. I can explore the Haw River or visit the great Bynum Bridge.
But I can't see 7,000 acres of land being taken away to disrupt an already established environment doing any good. The future generations will see a technology park. They won't see summer days walking down the road to your best friend's house. They won't experience the quiet beauty of a town covered in snowy dusk. They will instead see a town a former shell of itself.
Why would local business thrive if corporations
existed? Why buy bread from the local bakery if a corporation down the street has it for much cheaper? I don't think building this "Chatham Park" will be good for Jordan Lake, which has been on the Polluted Water list for the EPA since 2002. This is a town with people who care. Not a business plan full of maps and documents. Pittsboro is full of 4,000 unique people who all have a voice. In 30 or so years, that won't be the case with 60,000 people expected to live in Pittsboro. A stroll in quiet Pittsboro will not be realistic. Bustling cars and activity will instead dominate. If I haven't made it clear, Chatham Park is supposed to be essentially a technologi- cal park encompassing homes, parks, and businesses. Preston Development Company with billionaire Jim Goodnight has bought up land in the area for close to a decade. This isn't about them. This is about Pittsboro. Our town. I don't want to come back one day to traffic and chaos. Thirty years from now I want to come back to a quiet stroll on the same sidewalk that I took as a child.
Unfortunately, that seems unlikely because this summer the Pittsboro Board of Commissioners approved a rezoning request giving the project the lift it needed to go forward.
I'm fortunate enough to have grown in a safe, welcoming environment. A lot of people don't get the chance to grow up in a small town in America where there is such a pleasant atmo- sphere. I did, and I wanted to keep it that way. I'm open to change. Just not to 60,000 people moving into the town I know. I'm all for new jobs. Just if it doesn't turn us into the next Town of Cary. I sure do love technology. But there's already a research triangle located in the piedmont of region in North Carolina. Yes that's right it includes Chapel Hill, which is just a couple of miles up the road.
There's something special about a small town like Pittsboro. Whether it's the extravagant scene of a county fair, the taste of funnel cakes on a Sunday afternoon, or the sound of a local band. Pittsboro is special. More special than a bunch of documents and maps trying to ruin everything a town put its heart and soul into. I guess the small town atmosphere was just too boring. Not to me.
– By Byron Aguilar