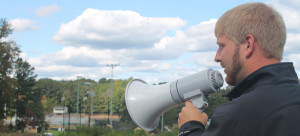 "It was so sudden," junior Tommy Lorbacher said. "He never gave any hints about leaving. No one really knew."
Eugene Cottrell taught band at Northwood for 15 years, but moved to Pinecrest High School in Southern Pines at the end of the last school year. Cottrell's departure has left many people emotional.
"It was heartbreaking. It felt like betrayal almost because he was going to a school we competed against a lot," Lorbacher said. "I also felt abandoned because he was such a great role model to me."
The new Northwood director, Brett Cox, may be young, but has been involved in band for years.
"This is my first year as a band director, but since I graduated high school, for the past five years, I have been [employed] at a high school as a part of marching band staff," Cox said. "This will be my first year being a full fledged band director."
The first band competition Northwood participated in this year was held Sept. 27 at Pinecrest High School, where they saw Cottrell again for the first time.
"We saw Cottrell," junior Ally Freeman said. "It made me feel really special that he made Pinecrest come to the field and watch us perform. I felt like he hadn't given up on us, no matter where he was."
The Chargers had their second competition the following weekend Oct. 4, and earned superior rating.
"We went to Southeast Guilford High School and had a really good showing," Cox said. "[We] came in second overall and had some really good scores. We felt really good about that performance."
Despite the change, Cox and Cottrell have remained dependable col- leagues.
"Cottrell and I have been talking ever since I got hired," Cox said. "Every couple of weeks we will check in with each other. He is very supportive and any questions I have, he is more than willing to help me out. We can support each other; we want each other to succeed."
Cottrell not only impacted the band program, but also the lives of the students involved in it.
"He was this pretty intimidating director at first, but once you got to know him, he was one of the greatest people at Northwood," Freeman said. "He has made me grow so much musically and as a person. I am just so grateful for that."
Cox expected difficulties when he came into such a closely-knit program. As a student, his high school band changed directors as well.
"[My teacher] was a great teacher," Cox said. "I went through the same thing. I had a band teacher for two years in high school who I loved, but he had to move on. I know down the road, it will be me. I'd rather them be attached to him than not liked him at all. I think it is a good sign for me."
– By Skyler Waugh