Education has widely been recognized as the great equalizer. The "American dream" that children raised in poverty have the ability to become successful with a proper education is a theme through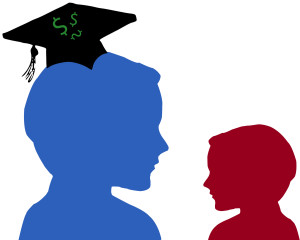 out American culture.
However, recent studies suggest that the distance is widening between students succeeding in school and those who are not. As a result, the much sought after "American dream" is becoming more difficult to attain.
This concept, known as the socioeconomic achievement gap, can be defined most simply as the difference in success in school between lower-income students and higher-income students. This gap can be observed through a variety of measures, such as standardized test scores, grade point average and dropout rates.
Regardless of the method of measuring the gap, many agree that the issue is becoming more complex.
"It used to be that education was the solution to a lot of your issues," principal Justin Bartholomew said. "You could go ahead and get an education, and that would solve a lot of the problems associated with poverty. It is so much more intricate now."
While data published in recent months by Stanford University has shown that the achievement gap between white and black students has lessened, the gap between poor and wealthy students has grown significantly.
"We have moved from a society in the 1950s and 1960s in which race was more consequential than family income, to one today in which family income appears more determinative of educational success than race," said Sean F. Reardon, a Stanford University sociologist, in an interview with The New York Times.
Social worker Saundra Gardner said that Northwood is not excluded from this national issue.
"Our school definitely has the haves and the have-nots," Gardner said. "I have kids who come in here crying because they didn't get to eat because they had to make sure their brothers and sisters did…. There are students in this building that are really struggling financially."
Dana Suskind, a pediatric surgeon at the University of Chicago, found that children from low-income households typically hear 30 million fewer words by the age of 3 than their affluent peers. Suggesting that education starts from the cradle, this study from the early 1990s kick-started a movement to close the gap early.
"How well a student can read by the end of first grade predicts how well the student will achieve in their life, because that literacy component opens up all sorts of windows," Noblit said. "If a third grader isn't proficient, they have to go to summer school. In my opinion, it has to start as early as kindergarten to correct the issue."
In the big picture, these students falling behind are less likely to graduate high school, earn a college degree and have a higher-paying job. This concept is not a new one either.
"Achievement gaps have been around since desegrega- tion, so it's not a new problem and it's not something that's easily fixed overnight," principal Justin Bartholomew said. "It's an ongoing issue for the district and the country as a whole."
According to Chatham County administrators, a wide variety of support systems are in place across the schools that work to reduce the gap. These include programs like summer reading camps for elementary students, after-school tutoring and even the Plus 1 program.
Gardner says that with individual students, she helps out by sending backpacks of food home with students and gathering gifts for families during the holiday season.
"We have students who I might get a call that they are being evicted," Gardner said. "Whatever is going on, we still try to motivate that student and teach them that when you walk in this building, you' re going to get food. Somebody is going to love you and care about you."
While administrators and programs like these work to lessen the gap, the actual causes of the achievement gap are broadly debated and researched.
"It's really difficult to pinpoint the actual cause," said Chatham County Assistant Superintendent Amanda Hartness. "There is actual research out there that suggests if a mother drinks soda during the duration of a pregnancy, then the child will achieve lower than those who didn't."
While many dispute the causes of the achievement gap, there is a general consensus that the gap is centered around the child's family's economic status.
A study by a group of researchers at the University of Michigan found that the imbalance between rich and poor children in high school completion, an important predictor of success in the working world, has grown by about 50 percent in the last 30 years.
Gardner is hopeful that the construction of Chatham Park will help close the gap by bringing new jobs to the area to employ the parents of students.
"[Chatham Park] will definitely stimulate our local economy," Gardner said. "I have even seen a difference since the opening of Bojangles. I have seen parents working there that I have never, in my 15 years of work- ing here, work."
Varying views on how to improve the gap combined with complexity of the issue creates a long-term challenge for educators.
"I don't think there is ever going to be a day that if you just had a million dollars it would fix the issue," Hartness said. "It's bigger than a program or an amount of money. If it were money or a program, someone out there would have fixed it already."
– By Chloe Gruesbeck