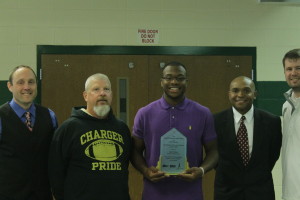 Imoh Udoh was selected as 99.9 FM The Fan's Scholar Athlete of the Month, receiving his award Monday at Northwood surrounded by many teammates, classmates and teachers.
"I am very proud of getting this award, I am very grateful," Udoh said. "I'd like to thank everyone, my teammates, coaches and classmates."
Each month, 99.9 The Fan, a sports radio station from the Triangle selects a scholar athlete of the month. This athlete performs well not only on the field, but in the classroom as well.
Udoh is a three sport athlete with a 4.55 weighted GPA and was recently nominated for both the Morehead-Cain and Parks Scholarships due to his outstanding academics. Udoh not only works hard in the classroom, he works hard on the field. Udoh, who plays defensive end, has come up with big stops for the Chargers football team this fall in crucial moments of the game.
Adults around Northwood have taken note of Udoh, including head football coach Bill Hall. Hall nominated Udoh for the award after listening to 99.9 The Fan and hearing another Triangle high schooler accept this award.
"Imoh has his priorities right, and this allows him to succeed while juggling sports and school," Hall said.
Udoh is the second player from Northwood to win the award, as Paul Shackelford, a former football player at Northwood won the award in 2009. Along with accepting the award, Udoh's interview with 99.9 The Fan will play all month on the radio.
"It takes focus and a lot of time management; you have to be very organized in order to balance school and sports," Udoh said.
Many students around Northwood know of how hard Udoh works in his classes. This effort has paid off for Udoh, who has accolades to show for it.
"Imoh asks a lot of questions and constantly tries to understand the full material during class," said Jacob Fowler, a senior who also plays football with Udoh.
-By Jacob Sipe