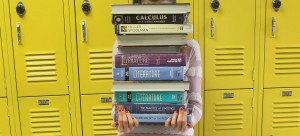 "I don't think that we're doing anybody a service by sugar coating difficult things, and I know that nobody likes for life to be hard, but it is really
what we need to be seeing develop," AP Biology teacher Dr. Victoria Raymond said. "I don't think we do enough of that in public school, so that's why I'm a champion of challenging students, and that's probably why I have the reputation I do. I don't let up; I make no apology about asking any kids—not just my super bright kids—to think and try to do something more than just mouth-breathe in class. I think we should all do that. I just have the opportunity to step up because I have the chance to teach some tough courses. I think it's a good exercise, and it may not be fun, but it's good for you, like castor oil."
Many students who come through Northwood experience the rigor and difficulty of challenging classes at one point or another. The teachers associated with these classes, and even the classes themselves, have earned reputations well- recognized throughout the student body. Some question why these classes are known to be so hard.
"I think part of it depends on the definition of 'hard,'" Spanish teacher Henry Foust said. "There are two definitions for the word hard. One is where the material is difficult and it takes a lot of time and effort to understand it; the work required is above and beyond what is expected. The other definition of hard is where the standards are high, and whether a teacher accepts work that's below standard. When people say that a class is hard or not, I'm not always sure what they mean by it. The material in my class is definitely not hard—it's Spanish I. A good bit of it is stuff that people have already in some way had exposure to. The fact of the matter is that I don't lower my standards, and I don't expect or accept kids to do below what they are capable of doing."
Foust continued, stating that oftentimes, students don't work as hard as they are capable.
"I see it all the time in the physical arena," Foust said. "Kids go into a weight lifting class and they will lift weights harder than they know they can lift on purpose. It's trying to get to the challenge of lifting a harder weight over and over again. People who participate in sports want to make varsity because they know that's part of the work. In academics, it's more like figuring out what they can get away with, and that's not acceptable."
So what makes a class hard? Students attest to a variety of factors.
"I think it's a combination of the workload the teachers put on, the curriculum, and also teaching style, which could have a huge impact on [the difficulty of] classes," said senior Cassidy Welge, who is in the top five of her class.
Advanced Placement (AP) classes are often a combination of all three of these factors. Many times, these classes introduce demands students have never experienced before, often leading to lower grades and higher stress.
"Some of the students that take upper level courses, like Honors and AP, have never really had to study before," said AP Environmental Science (APES) and AP Chemistry teacher Aaron Freeman. "They don't know how to study, and they don't know how to seek out additional resources to support their learning. AP classes are different in that you are not regurgitating knowledge. Most students in AP courses have not had to synthesize and apply knowledge, but simply regurgitate knowledge, describe a process or calculate a number. The application of the knowledge is what is different about AP classes, and students have a hard time recognizing that. They feel as though if the teacher has not taught them the material directly, the exact question word for word, then they are not responsible for it, which is not the case in any AP class or exam."
APES teacher Christine Schwichtenberg agreed, listing other new concepts that students are introduced to when taking AP classes.
"For many of the students in [APES], it's the first time they have been expected to do work beyond what is done in class," Schwichtenberg said. "Kids have had to do their homework before, but we expect you to read, and you don't get any direct, tangible points. It's maybe the first time that students have had that, where you should read, and it helps you get a better grade, but you don't have that tangible [grade] in the grade book. It's the first time we've asked [students] to do something beyond the sphere of the normal class work."
Some of the students planning to take AP classes in the future are nervous for what is ahead of them.
"[I've heard that the pace] will get faster and you'll have to do more work by yourself," freshman Bryce Tricas said. "[You won't] have it handed to you by your teacher."
Many experienced teachers and students have words of advice.
"Attendance is really important because you miss so much of the follow up and the discussion if you're not there, and teachers can't duplicate that," AP Language and Composition teacher Phyllis Bazzari said. "Keeping up with the work [is important]. At the AP level, or college level when you get there, you're just going to have to do a lot of work that you can't expect to be graded and rewarded for in that way. You have to be ready for the assessments. Asking questions in class is pretty key too. That can clear up a lot of misunderstanding that [students] are working with."
Welge had other suggestions.
"Don't procrastinate and try not to bite off more than you can chew," Welge said.
Despite the difficulty, being challenged can be beneficial in the long run.
"The biggest thing about being challenged is that you learn what you can do," Foust said. "You learn that you are capable."
-By Becca Heilman