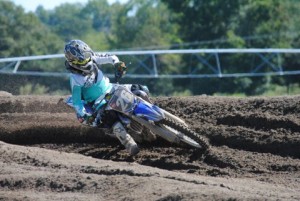 This past year, junior Kyle Jones qualified for the junior nationals at Loretta Lynn's, a race officially dubbed the Amateur Motocross Championships and sanctioned by the AMA (American Motorcycle Association). Motocross is a sport where athletes race motorcycles across tracks of dirt, often with jumps and other obstacles. At Loretta Lynn's, Jones took ninth in the nation, but not before overcoming several hardships on the way.
"In my first qualifier, I blew up my bike's engine and I was forced to use my second one," Jones said. "I wasn't comfortable on this bike really at all; the suspension wasn't dialed in and I hadn't really ridden it much."
Despite his discomfort with the way the bike was handling, Jones rallied to third place in the local qualifier, making him eligible for the regional qualifier to be held in Tennessee. There, he planned to compete in the next and final step in qualifying for nationals.
"I was projected to qualify in Tennessee; everyone was hyping [me] up, but I didn't qualify," Jones said.
Receiving a second complication in his journey to nationals, this time emotionally and physically, Jones suffered an injury. Another rider collided with him during practice in Tennessee and damaged his hand before the regional qualifying race even began.
"It was shocking when the doctor told me it was a break because I was only expecting a sprain," Jones said. "This was the year I was supposed to go and impress everyone."
Jones didn't allow himself to get down and embraced the three-week setback.
"It made me nervous about the whole situation since this was the year I was expected to go make a good impression, but I kept my head up; I knew I could do it," Jones said. "I had to work out my arm and do a lot of cardio to get back to where I was before the injury."
Jones traveled to Highpoint, Penn., for the last regional qualifying opportunity of the season—you can qualify in any region. The qualifier is set up in a three- race format or a "three format moto" where you race three times and your finishes are averaged together. After a first and a third place finish, Jones was in "pretty good position to qualify."
"I was feeling confident and I had a pretty good start, but then kids started piling up in front of me and I got in a first turn crash," Jones said. "At this point I was in last and I was freaking out. My stress level was way up there, but I just began riding really hard and focusing on everything I learned. This was my last chance to qualify."
Jones' efforts paid off. He was able to move up from 38th place to eighth place before crossing the finish line. This was just enough to average Jones into the top-five qualifiers and send him to the national competition.
Jones traveled to Tennessee for the final race of the year where many of the best racers across the country in his class would be competing for a national title. Here Jones had a "solid" outing and placed ninth in the nation.
"Right afterwards, I was actually a little disappointed because I was in the position to get into the top-five, but then my cardio [level of physical fitness] gave out," Jones said. "I thought my cardio was good, but it didn't turn out to be good enough, and I was passed by some people in the last race."
It didn't take long for the disappointment to fade as Jones gave more consideration to what he had accomplished.
"When I got back to the trailer, I thought about the fact I placed top-10 in the nation and was actually pretty proud," Jones said. "I felt like I accomplished something."
Jones went on to explain that there is more to motocross than what the average observer might expect.
"It's very mental," Jones said. "You'll see a kid go out and kill everyone on the track two races in a row, then he'll crash, and after that he won't be able to race well and he'll just stop performing because it got in his head."
During the season, Jones practices riding at least three times a week and sometimes will spend an entire weekend away from home practicing for a big race. Now preparing for his seventh year of riding, Jones has developed strategies to cope with the mental aspect of the sport as well.
"To get my head straight, I like to go somewhere by myself, just relax and think about the race," Jones said.
Jones has high hopes for his future and has set some lofty goals.
"The best case scenario for next year would be qualifying for Loretta's again, but in the older age group I'm now in," Jones said. "This would be a crazy thing and would probably change my life if I could place in the top-10 on that level. I would probably wind up going pro."
-By John Dunning