A cappella group Pitch Please recorded two songs at Liquid 5th Productions, an a cappella recording studio in Durham, Feb. 4 and 5. The group recorded "Ain't It Fun" by Paramore and "Luxury" by Jon Bellion ft. Audra Mae.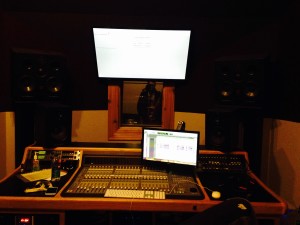 "It was the coolest thing ever," senior Ellie Frost said. "It was awesome to see the records of past a cappella groups on the walls, and it was just really awesome to be in an actual recording studio."
The group gained the opportunity as an extension of their performance at the SoJam A Capella Festival in October. Matthew Hanson, a cappella director and vocals and guitar teacher, has a connection with Liquid 5th Productions owner Chris Juengel, who he sang with in the Spartones, UNC-Greensboro's male a cappella group.
"We were just casually talking as the conference was finishing up that weekend and he was like, 'Hey, you should have your kids come by, check out the studio, and maybe do some recording if you have the time,'" Hanson said. "We kind of got more serious with it at the beginning of this semester just because we won $5,000 [in the Mix 101.5 Christmas Choir Competition] and could spend at least a little bit of it toward that."
Many members were unsure of what to expect from recording in a professional studio.
"[The process] was different than I expected," freshman Connor Lewis said. "Instead of a whole group, each person went into the booth alone. Also, instead of singing through the entire song, you would sing until you ran out of breath, and then they would stop it, and you would start at the point where you left off."
Sophomore Silas Waller commented on other aspects of the process.
"You do it a lot of times, and then you layer it all together," Waller said. "It's not really just singing it through once to get it done. It's a lot more work than you realize."
Despite the lack of professional recording experience, the group adapted well.
"They actually took really well to the process itself," Hanson said. "It can be a little bit intimidating, obviously, singing for new people and singing into a microphone to be recorded, trying to get it as perfect as possible, but they adapted really well to it."
Group member freshman Brenda Ruto agreed.
"It was really nerve-racking at first, but after a few tries it was really fun," Ruto said. "It was just a really cool experience to have."
Despite the initial nerves, group members responded well to hearing the unmixed tracks after they finished recording.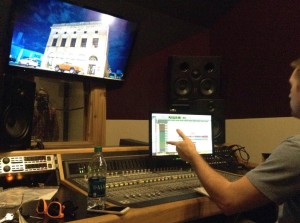 "Hearing my voice as a part of the group that means so much [to me] was really cool," sophomore Olivia Somers said.
The group plans to release the two tracks as a simple two-track EP around April.
"We'll definitely have it ready by the spring vocals concert," Hanson said. "We may release it actually on a CD that we can hand out and sell, or we may go more digitally and maybe put it up on iTunes and have it available for Spotify and things like that."
Though unsure about the method of release for the two tracks, Hanson is confident about the future of professional recordings for a cappella here at the school.
"This is just the beginning," Hanson said. "This is the first step in a process of hopefully one day in the next few years actually cutting a whole studio album."
– By Becca Heilman