"I was really in shock," art teacher Leslie Burwell said. "It was while I was teaching, so I was trying to engage my kids, and it was one of those days when everybody was a little bit hot and it was a little too pretty outside. When everybody walked in, I was just so surprised that I really didn't think that it was happening."
Burwell is referring to the moment she was named Northwood's 2015-2016 Teacher of the Year Tuesday. To select the Teacher of the Year, teachers nominate candidates and vote on their choices.
"Because my colleagues voted for me, it's an honor to know that they felt that I was worthy of receiving the award," Burwell said.
Many attribute Burwell's win to her extensive commitment to the school.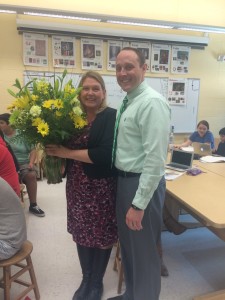 "I think she was chosen because she's one of the teachers that has her hand in so many different groups at the school," dance teacher Leah Wilhelm said. "She's not just a teacher; she's a mentor, she helps with our ASW (Analysis of Student Work), she helps with National Board [and] she's on all these different committees. She does everything, and she does it so well, and I think that finally people saw how much she contributes to Northwood."
Junior Hunter Koch agreed.
"She does so much," Koch said. "Outside of her art classes she is doing prom this year and designs for the musical, and she puts on two art shows. She said [Tuesday] in our class, 'I didn't win it for me; I won it for my whole arts department.' Her classes are really big too, so I think [she won because of] all the work she takes on."
Wilhelm was excited to see an arts teacher win the award for the first time in the school's recent history.
"I think it's about time that an arts teacher won [Teacher of the Year], and I'm so glad it was her to represent," Wilhelm said.
Wilhelm continued to praise Burwell for her dedication.
"Her commitment [stands out]," Wilhelm said. "She is always the first to know all the new standard changes. She's always the first to know about the new curriculum, and she's always the first to know the newest technique, the newest approach to teaching. She is always trying to find the next greatest thing to help her students learn even better than they did the day before."
Koch described her personal connection with Burwell.
"She gives a lot of individual attention, especially to her honors students," Koch said. "I've had her since freshman year, and I guess I've kind of grown up with her as a teacher, and that makes her special compared to other teachers. Her classes have such a different vibe with each one. Her teaching style and her passion for the craft really make her special."
Burwell has been at Northwood for 13 years and loves the environment.
"I love teaching at Northwood; my students are amazing," Burwell said. "Every day is a joy to come in and teach my kids in my classes. My own children, Rebecca and Daniel, graduated from Northwood, so I'm really proud of this school in terms of all we have achieved since I've been here these past 13 years. People who are teachers at Northwood care so much about all of the students and want them to succeed and go to college and enter the military and be successful in their jobs. It's really an honor to be Teacher of the Year."
– By Becca Heilman