Senior Brandon Kelly says that most mornings, his alarm rouses him around 5 a.m. so he can go for a run before his day starts.
"Then I stay here until 3:10, of course, and then some days I have work until 6 o'clock. Other days I'm here until five for various clubs," Kelly said. "When I get home, I generally do a little bit of homework, then sometimes I have another meeting for a personal co-curricular like Boy Scouts, then come back home and do more homework and go to bed around 1 a.m."
While some teenagers can benefit substantially from partaking in extracurricular activities, experts warn that being involved in too many can be unhealthy for adolescents.
"Doing too much can take a physical toll," said Dr. Susan Newman, parenting expert and author of Don't be S.A.D.: A Teenage Guide to Handling Stress, Anxiety & Depression. "Exhaustion, not getting sufficient sleep and not taking the time for nutritious eating can have negative effects and reduce success and feelings of accomplishment."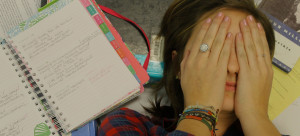 According to the Public Agenda Press Release, 79 percent of America's middle and high school students regularly participate in activities both after school and on weekends and 57 percent have some kind of non-school activity nearly every day.
With the number of students involved in clubs and sports on the rise, properly managing the effects is becoming more important. Newman suggests that students limit their involvement to only clubs they have a passion for instead of joining numerous activities that do not interest them.
"Admissions officers look for concentrated effort and a clear sense of goals or direction from a student's application," Newman said. "That does not come across if you have spread yourself too thin in clubs that don't interest you."
Distance Learning Instructor Shannon Wolfgang also believes in the quality over quantity approach with club involvement. Wolfgang has previously worked at the University of Michigan and Duke University as an admission counselor and recruiter.
"They are looking for kind of a long-term commitment to an activity where the student has grown within the activity, maybe a leadership position or having won awards because of their involvement in the activity," Wolfgang said. "Everyone thinks they need to get involved in a million different things and that's going make them more attractive, but really a sustained effort is more appealing."
Wolfgang says colleges favor some activities over others.
"There are some things that take a little extra effort to be involved with that require applying and competing with other students," Wolfgang said. "Things like the Governor's School and activities like that are favorable. Unfortunately, colleges see students playing sports everyday, that kind of stuff all the time, so that's pretty standard. It's what you do within that activity that really matters."
Senior Nolan Brown is involved in various clubs like DECA, Student Council and SADD and is also the vice president of Nuthouse. Brown recognizes the major reason he is involved in extracurriculars is because it is attractive to colleges.
"I wouldn't probably [be as involved if colleges didn't like it]; I would be in most of them but not all of them, because it's not something I necessarily always enjoy," Brown said. "It is something I do because I want those leadership roles to look good for colleges."
Senior John Atwater says that being over-involved can also affect a student's productivity.
"You shouldn't be involved to the point where you're not effective in the areas you're involved in," Atwater said. "If you are involved in everything, you're not giving 100 percent to one thing. When you go to get involved, you should do things that you know you are going to love and you should do it based on what your schedule is. There has to be an even distribution."
Guidance counselor Sonia Logan sees overwhelmed students in her office every day.
"I see students stretching themselves way too thin," Logan said. "I worry about them. Just the stress of school itself is a lot and trying to just be involved in so much. You've got to rest sometimes and let your body and your brain just calm down."
For teens, taking part in too many after school activities often cuts into precious hours of sleep. A study conducted by scientists at the National Sleep Foundation in 2004 found that teens need about eight to 10 hours of sleep each night. However, most teens do not get this recommended amount—the same study found that only 15 percent reported sleeping eight and a half hours on school nights.
While being part of numerous extracurriculars can have its drawbacks, there are positive aspects as well.
"Most people do it for college applications, but I also think it's good for meeting other people with similar interests; I feel like I am a kindred spirit with a lot of the people I'm in stuff with," junior Kirby Morris said.
In addition to meeting new people, Atwater believes his level of involvement will provide more opportunities in the future.
"I feel like if I establish myself as a leader right now, then in the future it won't be something new to me and it won't be something I have to adjust to when I'm going for job applications or doing college interviews," Atwater said.
Atwater also mentions that getting involved is a way to make connections that could be useful later on. For Brandon Kelly, his advice for those looking to get involved is simple.
"Find something you love," Kelly said. "Get involved in a club or sport that isn't so stressful; have it be a kind of emotional and physical release. It's never work if you enjoy it."
– By Chloe Gruesbeck