If you've been around Northwood, you are bound to see one man running — rain, sleet or snow. That man's name is Tristan Cochran. Cochran is a senior who started running his freshman year per the suggestion of his close friend, senior Noble LaRocco-Masi.
"I talked to Coach (Ronald Horton at the time) and told him that Tristan was coming out to run," LaRocco-Masi said. "Tristan could hardly run a mile to start out."
Now, Cochran trains 11 months out of the year for six days a week, running from four to 10 miles each day. This may seem very painful and difficult to some, but that is what Cochran thrives on.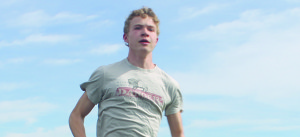 "Long distance running tears you down to your most basic existence," Cochran said."The feeling of overcoming that pain and agony makes you think you can do anything in life."
Cochran grew up in the Crescent Mountains of Pennsylvania. He was home schooled all of his life until he moved to North Carolina. Cochran had a couple issues with public school and adjusting to life after he moved.
"When I first came to North Carolina and went to Horton Middle School, I was very socially awkward because I grew up around adults," Cochran said. "When I got to middle school I didn't even know what rap was."
In Pennsylvania, Cochran took many years of mixed martial arts. During martial arts he frequently trained by sprinting short distances. This sprinting translated into Cochran's running at Northwood.
"When I first saw Tristan, I immediately noticed his leg speed," head coach Richard McDonald said.
Cochran started running long distance in cross-country his freshman year. He says he placed in the back of the pack during his first meet. Since then, he has become a top-tier runner, scoring fourth in this year's regional meet. He ran the meet in 16 minutes, a whole minute faster than his previous record.
"Cochran is a very hard worker and is willing to conquer any challenge," McDonald said.
Cochran enjoys cross-country and track equally, as both are long distance. He says there are key differences between them though.
"Cross-country is more strategic; you need to know when to move forward and when to expend your energy," Cochran said. "Track is all about energy economy: if you get out of breath, you won't have a burst at the end; if you fall behind you won't have a chance to regain the distance."
Cochran is dedicated to the lifestyle of running, from the shoes to the eating habits.
"Tristan won't even eat a doughnut if I offer him one," LaRocco-Masi said. "He tries to detox his body for running." [See Cochran's diet in the sidebar]
Cochran says he is so dedicated to running because he is used to it and it allows him to clear his mind. Many younger runners look up to Cochran.
"Tristan is a strong leader; he taught us if you work hard you will win," said freshman cross-country runner Colton Lineman.
Cochran qualified for the state meet in cross country this year; however, he didn't do as well as he wanted to due to conditions out of his control.
"States was probably the most miserable experience of my running career," Cochran said. "It was windy, rainy, below freezing and very muddy. I wasn't at all happy with that race."
Despite his experience at States, Cochran is still looking to have a good track season and potentially to run for a college team. He is looking into running at some smaller Division I schools such as UNC-Charlotte. Whether he runs for a team or not, he plans to always run in the future and one day hopes to compete in an Ultra Marathon (preferably 100-300 miles).
According to McDonald, Cochran has made his mark on the Northwood cross-country and track teams. He has helped set the program up for success.
"He has been a real blessing to our program," McDonald said. "We wouldn't be as good of a program without him."
– By Jacob Sipe