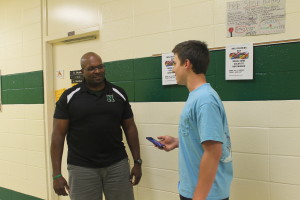 Northwood selected Brian Harrington as its new football coach. Harrington, a familiar face at Northwood, has been here for the past 19 years as an assistant football coach.
"Last February when I made my announcement that it would be my last year as the head football coach, I thought it was a no brainer," former head football coach Bill Hall said. "[Harrington] has been at Northwood for 19 years. He is a football man and brings stability, consistency and enthusiasm."
Harrington is a former Northwood football player who went on to play college football at North Carolina A&T. He brings experience among other qualities to the head coaching position.
"I've been like a kid at Christmas Eve for the past five years," Harrington said. "Christmas Day is here now; I am ready to play with my toys and work with the team."
Harrington brings a new mindset into the program, one that is centered on players working hard to achieve success. Harrington said that he is looking to change the culture and the mindset of the program and says that there will be many struggles.
"I'm going to be a little more strict when it comes to individual mindset," said Harrington. "Some people aren't going to be pleased with that. My formula will work, but it will be rough waters teaching people that you have to work hard."
Other than changing the culture, Harrington also looks to install a new offense this season similar to the offense that Auburn has run in the college game the past few years.
– Jacob Sipe