Northwood won first place in the State finals of The Quill, a writing competition that is part of the North Carolina Association for Scholastic Activities (NCASA), beating schools such as Cleveland High and Lee Early College High. According to the official NCASA website, Northwood has won first place for three consecutive years.
Seniors Frances Beroset, Amanda Peele and Rachel Crawford and junior Hudson Moore made up the four-person team representing Northwood in the competition, monitored by English teacher Kathleen Greenlee. Each member received a medal for first place and brought home the State Quill Championship trophy. Peele was happy to receive a medal for her essay.
"It's nice," Peele said. "Getting a medal for writing is a little different, but I appreciate it. I do a lot of writing; I'm in two English classes right now, so it's nice to get a medal instead of a grade."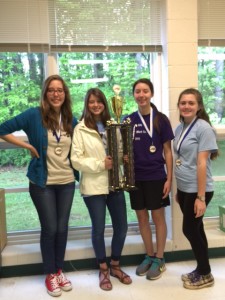 Crawford received a first place medal for her creative writing essay.
"I'm really surprised because I was really confident in the piece that I wrote, but I didn't think it was better than everyone there," Crawford said. "I just knew those people were extremely talented, so it's really a huge honor that they chose my story as the best."
During the competition, students are only given 90 minutes to write their essays. The timed competition is stressful to an extent for the members.
"It is [stressful]," Peele said. "Especially because I have trouble writing under time constraints. I took AP [Language and Composition] last year, and that was the first time I had to contend with timed writing. We had 102 minutes to write three essays."
Though the time constraint is stressful, Peele said practice and timing for the Quill helps in aiding the stress.
"But we practice a lot and here [in The Quill] we have 90 minutes to write one essay, so you have more time to fully express your thoughts and a little more time to collect yourself," Peele said. "It's a little less stressful, so that was nice."
Crawford felt the same way when writing her creative writing essay.
"I didn't feel as if I was on a time crunch," Crawford said. "This time I really connected with the prompt, so it kind of came easily to me. Usually the ideas kind of seem forced, but this time it came naturally, so I think that helped me a lot."
Most of the stress was on Moore, who joined the team only two days before The Quill's Regional Competition. It was also her first year participating in The Quill.
"It was my first year doing it. They actually called me in at the last minute like two days before the regional competition because someone backed out, apparently. They were like, 'Hey, can you do this prompt?' And I was like, 'I don't really know what this is, but I'd love to do it; sure.'"
The Quill has a requirement for a team of four members to compete in the competition. All three seniors need to be replaced with underclassmen for Northwood to qualify for The Quill next year. Moore shares her happiness in being part of this year's winning team.
"It felt really great [winning The Quill]," Moore said. "This was actually really surprising to me, and I'm really honored to be a part of this group."
– By Betty Her