"It's a big deal," said sophomore Matt Oldham, a verbal Wake Forest baseball commit. "People are going to look up to you, and they're going to think higher of you, as you're supposed to be really, really good."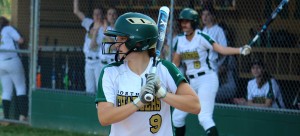 Oldham is referring to students who decide to commit to colleges for sports, specifically students in their sophomore year. Although student-athletes can't formally sign until after their junior year, students and schools are increasingly making verbal commitments much earlier. Oldham and Carson Shaner are both sophomores that have already verbally committed to colleges to play sports.
Though the college and the student can back out at any time, a verbal commitment can alleviate some of the pressure put on both. Colleges know that they will have talented athletes competing for spots on their teams, while student-athletes will know where they're going to school. Recently, colleges have been starting the recruiting process earlier.
"In the past [you] probably hardly ever [saw students committing early], but in the last four or five years there have been quite a few," softball coach Butch Edenfield said. "Colleges have been dipping down into [younger teams] to find players that they like and want to see as far as their ability. They used to just go after the seniors. Now they're seeing players that are developed enough in their eyes to go ahead and commit early."
Scott Jackson, assistant baseball coach and recruiting coordinator at UNC-Chapel Hill, agrees. According to him, colleges try to start recruiting as soon as possible.
"[Colleges] start to make contact with kids and maybe start to build a relationship with them probably as early as their freshman year," Jackson said. "Some kids are advanced physically and they're way ahead of some of the kids their age. From our end of it, I think it's important to start to build a relationship with them as early as you can."
According to Jackson, this can be both advantageous and detrimental to a student-athlete's sports career.
"I think there are two sides to the early recruiting part," Jackson said. "The good side is that you see a young man who is able to make a decision on where he wants to go to school at an early age, and it can save his family a lot of time and money as far as trying to showcase [his] ability and making visits to schools. It's kind of a peace of mind for everybody."
Arriving on campus having committed isn't always beneficial, however. Sometimes students become too comfortable and do not continue to improve in preparation for college.
"Some kids know where they're going to school and they'll kind of put it in neutral," Jackson said. "They don't continue to improve and get better like they would if they were still chasing an opportunity. It has to be important to you to be able to play as soon as you arrive on campus because just committing to a Division I school is not enough. You want to be able to play when you get there."
Shaner, a sophomore who has also verbally committed, will be able to sign her National Letter of Intent to play softball at UNC-Wilmington after her junior year.
"I wanted to commit early because they went ahead and gave me a scholarship offer, and that was exactly where I wanted to play," Shaner said.
Though Oldham and Shaner have verbally committed, they are not guaranteed spots on the teams. According to Edenfield, verbal commitments are not a contract. They're simply "a handshake between the player, the coach and the parents." Because of this, students vying for spots on collegiate teams have to continue to focus on improving their game.
"I have to work really hard in practices, during the off- season and at home on my own time," Shaner said. "I just have to work hard to get up to the standards, because my goal is to start when I get there."
Because the agreement is not set in stone, the players have the opportunity to back out if they see fit. Alexa Bernard is a senior who was committed to Catawba College to play softball during her junior year, but made the decision to decommit. She now plans to attend the University of South Carolina.
"I knew I wanted to decommit kind of right after I signed because it just didn't feel right," Bernard said. "The school just wasn't offering me what I wanted for the next four years of my life, and they didn't have the educational programs I wanted. The school was really small; it was a liberal arts college, and that just wasn't going to offer what I needed."
Though Bernard has not lost her passion for softball, she is happier after decommitting.
"I still love softball; I play as hard as I can every game," Bernard said. "I still strive to be the best on the field and I want nothing more but to win. I'm so happy that I made that decision because I'm not stressed anymore. I'm going to the school I want to go to and I'm actually excited to go, and before I wasn't."
According to athletic director Jason Amy, colleges are looking for more than just talented athletes to join their teams. Shaner and Oldham fit the criteria.
"Both are phenomenal athletes and great students," Amy said. "That comes to play in why they're being selected early, because they both have very good GPAs and both have great personalities and do a great job on the field, so it's part of what a college coach and any coach is looking for."
Though student-athletes may face pressure to focus on securing spots on collegiate teams, according to baseball coach Rick Parks, the importance of high school sports should not be overlooked.
"I think some kids get frustrated because they haven't committed," Parks said. "I think sometimes parents have unrealistic expectations for their children. I can say from experience, coaching with college players and playing as a college player, some of the best times I've ever had were playing high school baseball. Those are the times that you think back to and remember. In high school you're fortunate enough to get to play with players that you grew up with your whole life, which is very neat."
– By Sara Heilman