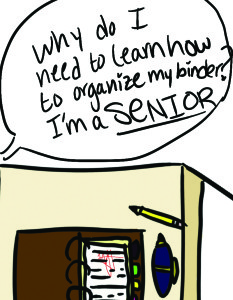 Around three years ago, the leadership of Chatham County Schools requested that their district high schools implement extra remediation time into their daily class schedules. "Charge Up Time" soon made its Northwood debut in the fall of the 2013-2014 school year. Kids who weren't failing classes could officially start school at 8:35, and the ones who were struggling attended extra remediation in the morning. But the system didn't work well. It was a hassle to create new Charge Up schedules for failing Northwood students each week, and some kids did not show up for remediation even when the schedules were clear.
Something had to give, so "Plus 1" was born—principal Justin Bartholomew's midday solution to students failing classes, missing out on test prep or simply in need of a study hall time. Plus 1 has undergone multiple transformations since it was put into place last August. Such changes mostly revolved around lunch, as the two are inexplicably but firmly connected. Weather issues and masses of bees thwarted the open-air lunch option and two lunches changed back to four. There was also that unfortunate stint when kids had to eat packed on the gym bleachers like smelly adolescent sardines.
Is this program working? Which of the many incarnations of Plus 1 has been the most successful? The Omniscient's editorial board is not in full agreement: our ideal plans range from Plus 1 mixed with lunchtime to no Plus 1 at all and everywhere in between. But we seem to be most in approval of the schedule tried the week of May 19-22, in which students went to their first period class for a Plus 1 session on Monday, second period on Tuesday, and so on, with Friday being reserved for their original Plus 1 homeroom class. It sounds confusing, but students seemed to catch on quick. We are all used to haphazard mid-year changes by now.
It's fantastic that students have the freedom to go to other classes during Plus 1 to catch up on work or get more one-on-one time with their teacher. This should be continued next school year. Most classes operated like this during the week of the week of May 19-22, but a few teachers used the extra time students spent in their class to continue teaching or conducting mandatory labs. This "two hour class" of sorts is quite unfair. Administrators should remind faculty that this is not their time to teach. Students should keep their freedom of movement.
The SAT and ACT prep taught during Plus 1 seems like a good use of student time and energy. Other mandatory Plus-1 work, including binder organization, "Claim, Evidence, Reasoning" (CER) paragraphs and job-hunting inventories got no rave reviews. Perhaps a better strategy would be to tailor Plus 1 activities to specific grade levels. Additionally, only one day a week should be set aside for these extraneous activities, versus four days a week (which is how Plus 1 began at the start of the year).
The key to a successful Plus 1 program is consistency. Plus 1 needs reliable expectations for students within classrooms and across-the-board teacher ownership in the program, but most of all, a stable schedule. Keep Plus 1 the same for a year and see what happens. We're betting it will all work out for the best.