Sarah P. Duke Gardens
If you're looking for a cheap daytime outing on a nice day, Duke Gardens has fun for everyone. It is located at Duke University in Durham, which is about a 25 minute drive from Chapel Hill. Entering the gardens is free, and parking costs $1 per half hour. Duke Gardens has 55 acres of landscapes to enjoy. Common activities at Duke Gardens include picnicking, playing frisbee, taking photos, walking and simply enjoying the outdoors. If you're looking for a way to get out of the heat, Duke Chapel is only a five minute walk away, and is open to visitors during the day.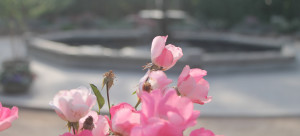 Stargazing at Jordan Lake
Looking for a perfect summer nighttime activity? Morehead Planetarium hosts skywatching sessions at Jordan Lake for free. The skywatching sessions are about two hours long, but you can arrive and leave at any time during those two hours. Planetarium staff will have telescopes set up, teach you how to identify constellations and tell ancient legends about constellations. Most sessions take place at Ebenezer Church Recreation Area, which is a part of the Jordan Lake State Park. Dates for skywatching sessions this summer are June 20, July 18 and Aug. 12.
The House in the Horseshoe
The House in the Horseshoe, also called the Alston House, is the site of a battle between loyalists and patriot militiamen in 1781. The house still has bullet holes from the battle. It is located in Sanford, and after the battle, was the home of Benjamin Williams, a four-term governor of North Carolina during the early 1800s. The house is also known for its eighteenth century plantation architecture. Admission is free, but donations are appreciated.
Animal Fun
Animal rescues and viewing areas are bounteous in our area. The closest, Carolina Tiger Rescue, is located in Chatham County. The Tiger Rescue is a nonprofit wildlife sanctuary in Pittsboro that rescues and provides sanctuary for wildcats. Its 55 acres are home to tigers, lions, cougars, leopards, bobcats and many other wildcats. Visitors are escorted throughout the rescue by a trained professional at all times.
Another place to view wildlife is the Duke Lemur Center in Durham. It has the world's largest population of lemurs outside of Madagascar. To take a tour, visitors must make a reservation. Self guided guests are not allowed, and it is highly suggested that you make reservations a few weeks in advance if you are planning on visiting during the summer.
Last but not least, the North Carolina Zoo in Asheboro features 500 acres of animal habitats. It is one of the largest natural habitat zoos in the United States, meaning animals there live in enclosures that mimic their natural habitats.
– By Katie Robbins