Student Council held a club fair Friday afternoon during Plus 1. Its purpose was to expose underclassman to the many different clubs available at Northwood.
    "What we want is for students that are freshmen and sophomores getting involved and to see what we have to offer," principal Justin Bartholomew said. "As a freshman, you don't really know what clubs are out there [or] how to get involved, and I thought it was pretty nice having all those pieces set up so they could see them."
    All Northwood clubs were invited to set up booths in the bus lobby and media center hallway. Both freshmen and sophomores attended.
    "It was very crowded, and I could hardly see the booths," sophomore Alexis Rolka said. "I was really scared right at the end when everyone was rushing back, and there were two masses of people that were trying to get passed each other, and people were shouting and pushing on my back."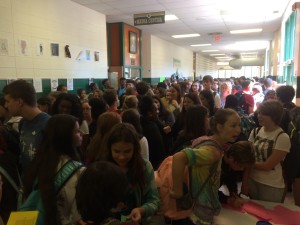 Bartholomew agrees that overcrowding was an issue with the event and said that next year they may have only one grade at a time at the fair.
    "We sent them back early because it was so packed," Bartholomew said. "Obviously this is one of the challenges we have in this school, and we couldn't have it in the cafeteria because we had lunch coming up next and couldn't have all the tables and people in there. We used the best space we had."
    Sophomore Wilissa Smith offers a solution.
    "I would split the classes up more and have different groups instead having entire classes with like 400 people in there at the same time," Smith said. "It was a little too much."
    While some mentioned that the large crowd was an issue, Smith said she still learned about clubs she didn't know existed.
     Despite the overcrowding, Bartholomew was still satisfied with the event.
    "I think if we had nothing, no one would have been exposed," Bartholomew said. "So I think from that standpoint it was a success. I saw a lot of students leaving with flyers from different clubs. I don't think students got to see everything that we have the offer but I think they got a good glimpse."
– By Chloe Gruesbeck