Northwood hosted a college fair open to all seniors Oct. 8. The fair allowed students to talk to admissions counselors from over 50 universities both in and out of state. The fair was part of a tour of colleges put together every year by the Carolinas Association of Collegiate Registrars & Admissions Officers.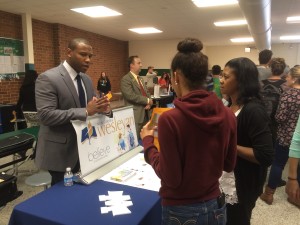 "[The college fair] is definitely exposure," UNC-Asheville admissions representative An Truong said. "A lot of times, I think the kids don't realize how many other types of colleges there are out there. College is all about fit, so it really depends on where the student feels like they belong the most; whether that's a big campus, a small campus, religiously affiliated or not, etcetera. So having a college fair like this really does help broaden kid's horizons."
      However, some students feel that the fair comes a little late for seniors.
     "I think this entire fair is absolutely pointless for seniors," senior Aiden Williams said. "I think they should do it for junior year or maybe even sophomore year, because as seniors, the early application deadline is in a week."
     School Social Worker Rachael Norris had a similar sentiment.
     "I think it would be great to add a separate time for juniors to come and experience the college fair," Norris said.
     Still, many seniors found the fair to be interesting.
     "I'm glad to see so many people so excited about college," senior Vanessa Jones said. "The [college] I'm most excited for I [had already] seen. I went to tour the campus of [UNC-Asheville] and I absolutely loved it. I definitely think that Elon is a booth I'm going to check out. I'll probably check out Appalachian State if I can get through the hordes of people who already are."
      Despite there being students that "lollygagged," Truong was very positive about the event.
     "We see a lot of students who are generally excited, but you're going to have a lot of students who lollygag and already know where they want to go, so they're not going to really stop by tables," Truong said. "[However], you get the one good student that will come up and ask tons of questions and [is] generally really excited about learning about your school. That really makes up for the rest of the kids."
– By Sawyer Davis