Circle City Books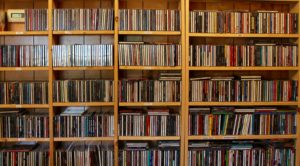 Hours:
Monday – Friday 11 a.m. – 7 p.m.
Saturday 10 a.m. – 7 p.m.
Sunday 12 p.m. – 6 p.m.
At Circle City Books, there are no walls. Only towers of books and CDs. The first building on the right on Hillsboro Street is a small bookstore with an open door that drags one in with the smell of aging paper and tables overflowing with books on the sidewalk.
"I'm not going to brag too much, but a town without a bookstore is a sad situation," said owner of Circle City Books, Myles Friedman. "Any town is going to have a positive impact when a bookstore opens there."
Wander through the shelves filled with classic and contemporary novels, or try your luck at finding a record or CD you have sitting in your Amazon cart, collecting dust.
"It's a used bookshop in downtown Pittsboro, and it's one of the best places around to get well-known books for cheap, because they're used," sophomore Abby Goyea said. "Basically half of my book shelf is from there, because it's so cheap, and it's good to support local businesses."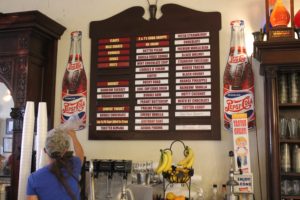 S&T's Soda Shoppe
Hours: Tuesday – Saturday 11 a.m. – 7:30 p.m.
S&T's Soda Shoppe stands as a gem of the Circle City. For less than $5, one can receive a towering "one scoop" of ice cream chosen from over 30 varieties.
"My favorite thing in Pittsboro is S&T's Soda Shoppe," senior Edward Austin said. "Ever since I was in middle school, I would go every Friday, and I've always kept that tradition."
    Located on the main strip of Hillsboro Street, this 20-year-old hotspot is decorated with various nostalgic knick-knacks ranging from vintage chocolate sauce dispensers to a jukebox in mint condition.
"It was my husband's idea; he had always wanted to open a restaurant," owner Vicky Oldham said. "I thought he was crazy, but I thought if he can fight for his life, he can do this. We talked and if we never worked, we would lose our home. He found the furniture at another drug store, the same time period as this building. After fifteen months of renovation, we opened."
This is the place to be when it's hot and sunny or cold and rainy. Ice cream is great year round!
House Favorites: A sundae with your choice of ice cream!
Blue Dot Cafe

Hours: Every Day 7:30 a.m. – 5 p.m.
 Right in the heart of Pittsboro is the always convenient Blue Dot Cafe. This shop's homemade pastries and handcrafted beverages fill not only one's physical hunger, but spiritual craving as well.
"It's one of the local spots where friends and family can get a good cup of coffee," said Kara McSpadden, one of the baristas at Blue Dot Cafe "It's important to have a spot where you're comfortable and can hang out with your family no matter what."
Browse the art hanging on the walls-most of it is created by local artists.
   "The owner is really into art and supports local artists, a lot of the art that we hang is by local artists," Kara said. "We change it out every couple of months and give everyone a chance."
House Favorite: Honey Vanilla Latte
– By Madison Clark